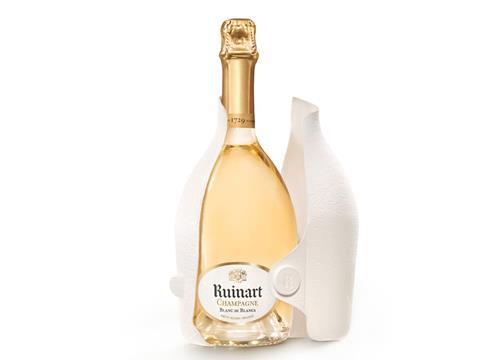 In this edition of our Sustainability Awards 2020 finalist interviews, we talk with Violaine Basse, CMO of the champagne producer Ruinart, about his company's new lighter, fibre-based, recyclable case.
---
Congratulations on being selected by the international judging panel as a Sustainability Awards 2020 finalist! Could you please introduce your successful entry and what's innovative about it?
Ever since its founding in 1729, Maison Ruinart has dared to innovate. The very first champagne house, it was also the first to market a rosé champagne in 1764; the first to acquire the millennial chalk cellars ideal for aging wines; the first to collaborate with artists in 1896, by commissioning Alphonse Mucha to design an "advertising campaign" to promote its wines, as well as the first to use wooden cases for the transport of its bottles in 1769.
Building on this pioneering spirit, the Maison has developed in 2020 an innovative eco-responsible ultra-light case, second skin, crafted from natural wood fibers sourced from sustainably managed European forests, that is easily and fully recyclable.
Ruinart second skin case is a new eco-designed packaging that aims to replace all Ruinart generic gift boxes. What is innovative about it is that it manages to have a 100% paper-based, entirely recyclable case, including the closing system, that is perfectly moulded to the shape of the iconic Ruinart bottle, and produced in one single piece.
Another characteristic that is innovative for the champagne industry is that the second skin case protects our wine from being light-struck until the very last step of consumer tasting, thanks to a mineral added into the paper pulp and the high resistance of the paper case until consumption. For example, it resists months in fridges and hours in ice buckets.
What are the environmental challenges in packaging that your entry addresses, and what impact do you hope it will make?
This packaging addresses two environmental challenges: recycling and waste reduction.
Indeed, regarding recycling, we wanted to be sure that once the packaging is thrown away, it is well recycled. In order to optimise the end-of-life of the second skin case, we decided to develop a "mono-material" paper case.
The previous generation of gift boxes was multi-material: a paper structure and plastic holds (to maintain the bottle). The consumer had to separate both materials to secure recycling. With second skin, there is no need to separate anything – it is easily and entirely recyclable with other household paper.
Regarding the other challenge, reduction, we worked on packaging based on one essential element: the shape of our iconic bottle. This minimalism allows us to reduce the carbon footprint by 60% compared to the previous generation of gift boxes – second skin is nine times lighter, weighing 40g vs 360g. In other words, we reduced the amount of raw material used and, following the same logic, the amount of waste generated.
Last but not least, it was mandatory for us to use FSC certified materials: the paper is made of natural wood fibre coming from eco-managed forests in Europe.
We hope that the impact will be to reduce the waste generated and that the waste generated by second skin will be 100% recycled with other papers. We hope as well that consumers will re-consider this new way of offering champagne by supporting our purpose: less packaging for a new art of gifting, combining elegance and sustainability.
I'd like to ask you about the broader picture beyond your successful entry. 'Sustainability' in packaging is multi-dimensional – both in terms of objectives and challenges. Could you comment on the most important roadblocks you identify from your position in the value chain, and the kinds of solutions you would like to see addressing them (e.g. areas of technological innovation, collaboration, regulation)?
Climate change is already happening in the vineyards. The Champagne terroir is the source of our wines' excellence: we have a responsibility to protect and preserve this natural environment. For Ruinart, sustainability is a must.
Twenty years ago, the culture of the vineyard melded with the philosophy of sustainability: from the vineyards certified "Viticulture Durable en Champagne" (VDC) since the 1990s and "Haute Valeur Environnemental" (HVE niveau 3) since 2014, to all wine production activities. Ten years ago, Ruinart decided to extend this to every element of the métier.
A global approach is essential: whether it is transport, packaging solutions, or identifying committed artists for collaboration, every aspect is taken into account. On-site at Maison Ruinart in Reims, 98.7% of all waste is recycled and all by-products of the vinification process are 100% recycled.
An unprecedented innovation in packaging, the second skin case highlights a disruptive yet environmentally responsible approach. It is the result of two years of dialogue between Maison Ruinart's teams and its manufacturing partners, Pusterla 1880 and James Cropper. Together, they focused their efforts on a material—namely cellulose fibres, or pulped paper—that solved two technological challenges.
The first challenge was to render the case impermeable to any light that might risk altering the wine, especially with clear glass bottles. The second challenge was to ensure that the case could protect the wine right up until tasting, while being resistant to service uses (including contact with water) without deteriorating.
I think the major roadblock is consumer behaviour towards the luxury industry, because they are used to traditional gifting codes such as gold, lots of paper, cardboard and ribbons when they want to offer a luxury good. That is why it is important to set an example and to affirm that, nowadays, luxury means excellence, which means we also have to be excellent on the environmental impact we have. It is our duty to produce the cleanest packaging possible. Progressively, their minds will change.