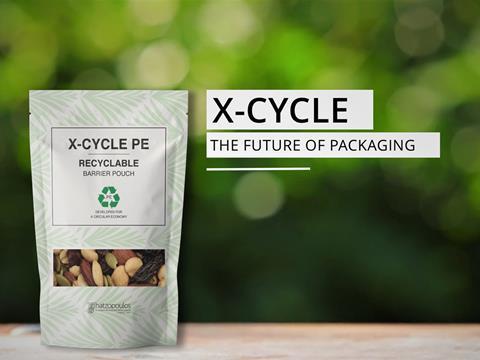 The countdown is on for the live Sustainability Awards 2019 ceremony, where we will unveil the worthy winners of the most prestigious sustainability competition for packaging innovation.
In anticipation, we explore the 25 standout solutions that made it to the finals, handpicked by our independent, expert judging panel.
The winners in each category and overall 2019 Sustainability Awards winner will be announced at FachPack, Nuremberg, Germany on 25th September. Join us from 16:30 at FachPack's PackBox Forum for sustainability discussion, networking, drinks and the big reveal.
Today's innovation, the X-CYCLE packaging range from Hatzopoulos, has been nominated in the 'Recyclable Packaging' category.
Congratulations on being selected as a Sustainability Awards 2019 finalist! Could you please introduce your successful initiative?
At A. Hatzopoulos S.A. we always focus on improving packaging design and on innovating to make our plastic products more environmentally-friendly. In response to the requirements set by the European Commission as well as our customers internationally, our R&D team has developed a series of films that are recycle-ready: 'X-CYCLE'. The Hatzopoulos X-CYCLE packaging range has been recently introduced in the market as the next laminates generation and it consists of three main alternatives: X-CYCLE PE, X-CYCLE POLY & X-CYCLE PP. Designed for a truly circular economy the new range incorporates the guidelines for plastics recycling through the corresponding PE, Mixed Polyolefins and PP recycling streams. X-CYCLE PE solutions, in particular, are PE-based, high-barrier laminates that combine high-protective properties, high-performance, excellent shelf-appeal, and many-fold add-on packaging functionalities together.
What are the environmental challenges in packaging that your entry addresses, and how well is the market responding to them so far?
Flexible packaging has proven to be the best packaging choice when it comes to product protection, food waste reduction, consumer convenience and sustainability. However, today, most multi-material film structures that provide a broad range of protective and functional properties are not recyclable through the available recycling infrastructures. Laminates that require high barrier properties (such as those brought by Alu-foil or PET films) when combined with polyolefins cannot be recycled together. The X-CYCLE PE solutions are the recyclable barrier films designed and launched by A.Hatzopoulos S.A. to fill this exact gap.
For the development of this packaging range, the targets that we had set for it to achieve were twofold: 1) Compatibility for recycling through the PE recycling stream, and 2) High-performance packaging that meets the diversified needs and requirements of our customers internationally. Available either as duplex or as triplex film formulations, the X-CYCLE PE solutions also have better environmental metrics when it comes to resource efficiency and packaging weight compared to other, non-recyclable, laminates of the same thickness. Moreover, thanks to their barrier properties integration they contribute to the packed product's shelf life extension, thus preventing waste.
The X-CYCLE PE solutions are of increasingly high demand, especially in western European countries, such as the UK & France.
'Sustainable packaging' is a contentious concept, which means different things to different people, and anyone working in packaging understands that it's easy to make things worse according to one environmental metric while making improvements according to another. In your opinion should there be a hierarchy among our sustainability goals?
Hierarchy is indeed a very important aspect when it comes to sustainable packaging design. At Hatzopoulos we believe that sustainability in packaging is much connected to resource efficiency and prevention of food waste. These two topics are high in our sustainability agenda, with a focus on optimised use of materials to avoid waste of resources and unnecessary greenhouse gas emissions. Design for recyclability is the next important thing, driven as well by innovation in materials and packaging machines. Sustainable practices among the supply chain followed by the bio-based and compostable packaging concepts complete the approach our industry should work on.