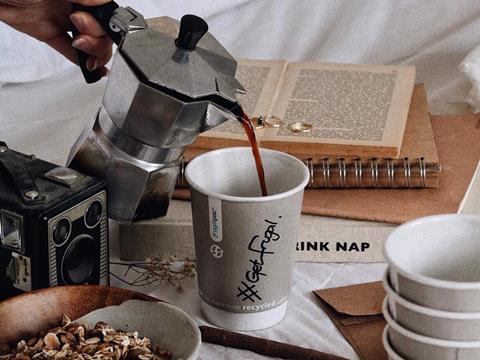 In the first of our interviews with the Sustainability Awards 2020 finalists, we talk with Frugalpac, the creator of a coffee cup made from 96% recycled paperboard.
The company recently had the dual honours of achieving top marks for BRCGS Global Standard accreditation for packaging materials and welcoming a special adviser from the government to one of its factories.
---
Congratulations on being selected by the international judging panel as a Sustainability Awards 2020 finalist! Please could you introduce your successful entry and tell us what is innovative about it?
Frugalpac is a British company developing a range of innovative sustainable packaging products that maximise resource efficiency. Our mission is to create and supply recycled paper-based products with the lowest carbon footprint that are easily recycled so they do not need to go to landfill.
Our first product is the revolutionary Frugal Cup, the world's first coffee cup made from 96% recycled paperboard. It was developed in response to the international debate on the difficulty of recycling single-use coffee cups, which are all made from virgin paper.
The construction of the Frugal Cup allows ease of recycling again. This means it is the only coffee cup that can get recycled through standard recycling facilities across the UK.
And, because it's made from recycled paperboard, the material has already had several uses before becoming a Frugal Cup. That's why, according to an independent Life Cycle Analysis of coffee cups, the Frugal Cup's carbon footprint is up to 60% lower than conventional and compostable cups with a water footprint up to 74% lower.
What are the environmental challenges in packaging that your entry addresses, and what impact do you hope it will make?
When we devised the Frugal Cup, it was estimated that only one in 400 cups actually get recycled, with the vast majority of the 2.5 billion coffee cups produced in the UK every year going straight to landfill.
The latest figures suggest cup recycling has improved to about 6%, but that's still very low. This is because there aren't enough dedicated cup recycling plants and industrial composting facilities to cope.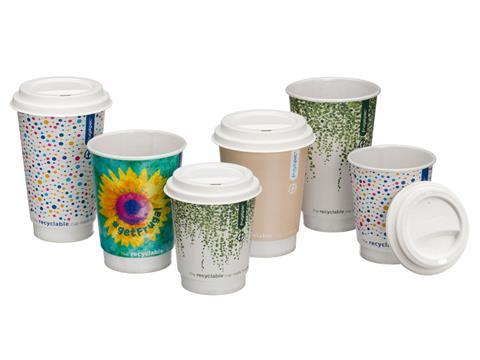 What's worse is that all these cups - conventional, coated, and compostable, are made from 100% virgin paper.
But, unlike these cups that use virgin paper and tightly bound plastic or PLA (Polylactic acid), the Frugal Cup is made from 96% recycled paperboard with 4% of the cup a PE (Polyethylene) food-grade liner.
As the liner is made separately and not laminated onto the cup board, it makes it much easier to recycle. The liner comes away in standard recycling facilities and does not contaminate the resulting paper pulp. This means the Frugal Cup "closes the loop" for coffee cups.
Frugal Cup has been proven to have the lowest carbon and water footprints when compared to conventional, coated, and compostable cups.
I'd like to ask you about the broader picture beyond your successful entry. "Sustainability" in packaging is multi-dimensional – both in terms of objectives and challenges. Could you comment on the most important roadblocks you identify from your position in the value chain, and the kinds of solutions you would like to see addressing them (e.g. areas of technological innovation, collaboration, regulation)?
It's increasingly clear that people and businesses have to live and work more sustainably. Recycling coffee cups is still a huge problem.
There is only one dedicated waste facility in the UK to process conventional cups and 53 industrial composting sites that could process compostable cups. Increasing that capacity will cost tens of millions of pounds and take decades to achieve.
The Frugal Cup has been specifically designed to go through conventional recycling facilities. Moving over to our cup will protect the environment, reduce carbon emissions, save billions of litres of water, and stop millions of trees needlessly being cut down to produce single-use cups made of virgin paper.
Our objective is to get the Frugal Cup recognised as not requiring specialist recycling or specialist composting and flowing through the recycling process again. We recognise there needs to be value in the paper and recycling chain to encourage this.
We would encourage a unified approach by local authorities towards the collection of paper to reduce collectors' and recyclers' costs, as well as a levy or tax on all paper packaging not using a specific percentage of recycled content – we'd suggest 80% by weight to incentivise more value and therefore production of recycled paper.
Also, we believe that a common and simple labelling system that tells the customers the carbon footprint of the packaging and its recycling capability is necessary.