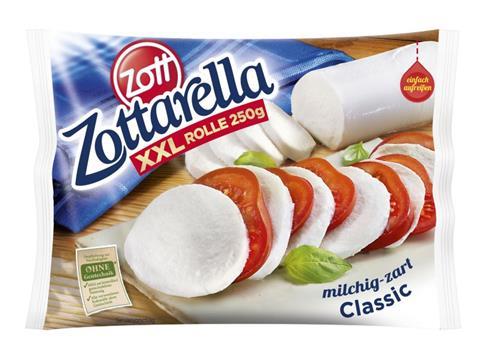 With the Sustainability Awards 2020 ceremony just nine days away, we talk with BASF, Borealis, Südpack and Zott - finalists in the 'Pre-Commercialised Innovation'- about their collaboration to create a food packaging prototype made from chemically recycled polyamide and polyethylene.
Congratulations on being selected by the international judging panel as a Sustainability Awards 2020 finalist! Could you please introduce your successful entry and what's innovative about it?
BASF, Borealis, Südpack and Zott presented a prototype of food packaging made with 100% recycled raw material. The project is outstanding in that both components of the packaging – polyamide and polyethylene – were made from chemically recycled material. In addition, the collaboration between the companies involved made it possible for the first time to consistently certify each step up from the raw material to the finished packaging. This pilot project was made possible thanks to the collaboration between the four partners BASF, Borealis, Südpack and Zott. BASF supplied chemically recycled polyamide, while Borealis provided sustainably produced polyethylene. Südpack, one of Europe's leading producers of film packaging for food products, used these materials to produce multilayer film for a specially sealed Mozzarella packaging for Zott Gourmet Dairy. The raw materials for polyamide and polyethylene were produced in small scale as part of the ChemCyclingTM project. The pyrolysis oil derived from plastic waste was supplied by a partner and fed into BASF's Verbund production site in Ludwigshafen as feedstock. According to the certified mass balance method, both plastics had an allocated 100% share of recycled materials.
What are the environmental challenges in packaging that your entry addresses, and what impact do you hope it will make?
Multilayer packaging consists of up to 11 individual, ultra-thin layers, making it considerably lighter and thinner than comparable packaging. In addition to reducing the amount of raw materials used, this also contributes to considerably lowering CO2 emissions during transport. All in all, multilayer packaging is clearly more resource efficient than its alternatives.
As for nearly all food packaging there are no mechanical recycling processes which can produce multilayer film with recycled materials. With chemical recycling even packaging for food application can be produced now using recycled plastic waste. In collaboration with the four partners, a prototype packaging made of chemically recycled polyamide and polyethylene has been produced for the first time. This proves that multilayer packaging can be produced with recycled materials. In addition, multilayer packaging could only be recycled to a limited extent, because mechanical recycling processes are not suitable for composite materials. BASF is working on advancing the chemical recycling of plastic waste, because this will make it possible to process and reuse previously non-recyclable plastics such as mixed plastic waste fractions, including multilayer packaging. I'd like to ask you about the broader picture beyond your successful entry. 'Sustainability' in packaging is multi-dimensional – both in terms of objectives and challenges.
Could you comment on the most important roadblocks you identify from your position in the value chain, and the kinds of solutions you would like to see addressing them (e.g. areas of technological innovation, collaboration, regulation)?
Chemical recycling can be an important element to bring recycled materials into technical challenging and high-value application like food packaging and it promotes a closer cooperation along the whole value chain. However, the technology for conversion of plastic waste into pyrolysis oil remains to be further developed to ensure a reliable supply of high quality secondary raw material on an industrial scale. On the other hand, it is important that this innovative recycling process, including the mass balance approach, is also recognized at a regulatory level.