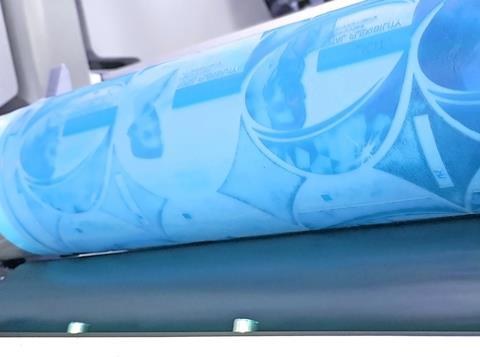 The countdown is on for the live Sustainability Awards 2019 ceremony, where we will unveil the worthy winners of the most prestigious sustainability competition for packaging innovation.
In anticipation, we explore the 25 standout solutions that made it to the finals, handpicked by our independent, expert judging panel.
Matteo Cardinotti, managing director Bobst Firenze discusses their revolutionary concept in inking technology (a finalist in the 'machinery' category), which has massive implications for ink waste reduction.
Congratulations on being selected as a Sustainability Awards 2019 finalist! Could you please introduce your successful initiative?
BOBST has recently introduced two revolutionary innovations: Ink-on-Demand (IoD) and DigiColor.
The Ink-on-Demand inking system – which works for all substrates for labels, flexible packaging and folding carton applications – is a revolutionary concept in inking technology. It is a clean and smart system that operates with only 30 grams of ink in the print unit. It eliminates ink trays and chambered doctor blades. Full wash-out and ink changes are performed in minutes with only a few grams of ink and washing liquid wasted. It delivers consistent print quality at high speed, high productivity and a sustainable operation, ease of operation and high flexibility.
DigiColor takes the IoD concept one step further: the hue of the ink dispensed to the print unit can be automatically digitally adjusted during printing. DigiColor is the first truly closed-loop colour control system. For the first time it is possible to transform the final printed product from DigiFlexo back to a digital file to be able to compare it with the original digital native file.
What are the environmental challenges in packaging that your entry addresses, and how well is the market responding to them so far?
With DigiColor / IoD, significantly less ink is required to operate, and only a few grams of ink and washing liquid are wasted, resulting in significant reductions in environmental burden.
The reaction has been extremely positive. These are genuinely transformational innovations for our customers, which mean they can be reassured about colour control while also seeing significant improvements in the sustainability of their processes.
'Sustainable packaging' is a contentious concept, which means different things to different people, and anyone working in packaging understands that it's easy to make things worse according to one environmental metric while making improvements according to another. In your opinion should there be a hierarchy among our sustainability goals?
It is important to set goals and define metrics, and we believe there is great encouragement to be taken from the intensified focus by brand owners in the last few years on achieving their sustainability targets.
We believe one of the most important focuses at the moment is the move away from mixed polymers to mono-materials for packaging, including for food packaging. This is a real challenge as we almost need to undo 20 years of mixed polymer engineering to find mono materials that perform as well as today's packaging – but the potential sustainability benefits if we succeed are significant.
Clearly, sustainability in packaging needs to be achieved by many stakeholders acting together, not by someone with a silver bullet. Thinking about the wider picture, what areas of innovation or action would you like to see across the value chain in the coming years to meet the demands of nature and society?
Partnerships are absolutely vital when it comes to sustainability. We need to move quickly and we need to move in unison. Separately we will get nowhere, we need to pool our engineering to produce new substrates that are recyclable and sustainable but still meet all the performance requirements we are used to.
A major focus for everyone in the industry is developing biodegradable plastics that meet sustainability criteria and can be widely utilised in packaging processes. Because at BOBST we have all the relevant technology to be able to test the viability of industrialising new materials from raw material to printed and converted packaging and labels, we can add a lot of value in this area.
We are excited by the innovation we are seeing in R&D, and believe there will be significant advances in this field in the coming years.
The winners in each category and overall 2019 Sustainability Awards winner will be announced at FachPack, Nuremberg, Germany on 25th September. Join us from 16:30 at FachPack's PackBox Forum for sustainability discussion, networking, drinks and the big reveal.