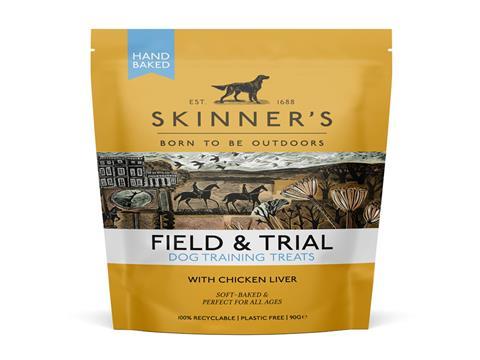 Our next Sustainability Awards 2021 finalist interview is with Tim Hansell, CEO of Skinner's, who discusses the relaunch of the pet food brand's Field & Trial range with fully recyclable packaging.
Congratulations on being selected by the international judging panel as a Sustainability Awards 2021 finalist! Could you please introduce your successful entry and what's innovative about it?
In 2021, Skinner's is celebrating 50 years of feeding working dogs, with a history in the food business dating back seven generations.
As one of the UK's oldest dog food brands, we have a huge responsibility to create positive change in the sector, change which can be replicated by other brands to turn the tide on single use plastics and reverse the negative environmental impact that the pet food industry has had on the planet.
To mark the 50 year anniversary, we relaunched the Skinner's Field & Trial range to be fully recyclable. With research showing that only 14% of UK pet food launches in 2019 featured sustainability credentials, despite 66% of dog food buyers preferring brands that use eco-friendly packaging, the need for a shift to sustainable packaging was clear.
Skinner's was selected as a finalist in the Bio-based packaging category for our use of EarthPouch across our new treats range. The stand up pouch is plastic-free with an aqueous coating and can be recycled with the paper stream. The Earthpouch was developed to offer a high-performing and yet cost-effective food packaging solution, which is also environmentally friendly, as it is manufactured from renewable material source and suitable for repulping.
Skinner's didn't want to be another brand making redundant claims, which is why it pivoted to 100% recyclable packaging to make real impact, alongside taking other measures such as including the use of Tetra Pak cartons across the wet food range, which are not only hugely environmentally friendly, but also produced in house to combat the need for exports and further reduce our carbon footprint.
Skinner's Group are the only UK dog food manufacturer to produce and pack using Tetra Pak on site in the UK. The use of both EarthPouch and Tetra Pak across the Skinner's range has enabled us to put our best foot forward in increasing our sustainability credentials.
What are the environmental challenges in packaging that your entry addresses, and what impact do you hope it will make?
The battle against single use plastics is more prominent than ever, and issues surrounding climate change have significantly ramped up with the marriage between popular culture and wider climate change agenda, as well the mounting pressures derived from the COVID-19 pandemic.
Over the past year there has been a huge rise in dog owners, with a further 3.2 million acquiring a dog. Whilst this has coincided with a rise in the conscious consumer, it also marked a need to improve sustainable packaging within the pet industry, to ensure new dog owners opt for more eco-friendly packaging, rather than choosing single use plastic that harms the environment.
Pouches remain one of the most popular packaging choices for consumer, with a recently announced pouch shortage demonstrating the products in high demand. The challenge within the industry is to facilitate both the consumer preference for sustainability and the preference for ease, which has meant that pouches have continued to be popular purchase choice.
What Supermarkets have failed to do on a large enough scale to meet demand, is offer products which are sustainable and will not face issues with production/imports whilst also offering high quality food for dogs, who are now valued members of the family as trends towards premiumisation and humanisation in the pet food sector show.
With the wide range of packaging products now available in the industry, one type of packaging doesn't suit every need which has caused issues for many manufacturers who have looked for a way to switch from their usual packaging.
There's also the issue surrounding the balance between using eco-friendly packaging that is also able to retain the full health and nutritional benefits of the product, and with all-natural ingredients sought by 41% of dog food buyers, there is no room for compromise.
The sector and its supporting retailers must act quickly to turn the tide on the impact of single use plastics as billions of pouches every year are sent to landfill, with standard pouches having one of the lowest recycling rates of all packaging – around 50 times worse than the recycling rate of single coffee cups which continually draw media attention.
Skinner's have invested in Earthpouch to fulfil consumer desire for the popular packaging choice, which is favoured due to ease, whilst also maintaining a sustainability agenda across its packaging. Made to be 100% recyclable, plastic free and compostable, consumers can simply recycle with their paper waste once their dog has enjoyed all the delicious treats.
Ultimately, consumers are driving change, and everyone from Government, to manufacturers, to retailers are having to react and update their processes accordingly.
I'd like to ask you about the broader picture beyond your successful entry. 'Sustainability' in packaging is multi-dimensional – both in terms of objectives and challenges. Could you comment on the most important roadblocks you identify from your position in the value chain, and the kinds of solutions you would like to see addressing them (e.g. areas of technological innovation, collaboration, regulation)?
One of the broader challenges when it comes to sustainability and packaging is exports. No matter how recyclable, compostable or zero-waste packaging may be itself, if it's being exported across the globe then there's still more that needs to be done to reduce carbon footprint.
This is one of the reasons we invested in taking Tetra Pak capabilities in house, to allow for these kind of alternative packaging solutions which would have previously only been possible through export.
Regarding carbon footprint, it's also important to invest in using local ingredients where possible, which isn't always easy.
Skinner's produce food with local British, natural ingredients to reduce the environmental impact of manufacturing the products, and think that it's important for as many businesses as possible to do the same.
Skinner's has invested in a state-of-the-art manufacturing plant in Suffolk, to be able to operate independently and sustainably for years to come. Unlike other dog food manufacturers, Skinner's can now be responsive to changing consumer demand through producing both food and packaging using British ingredients in the UK. This gives the company license to try new things, disrupt and innovate.