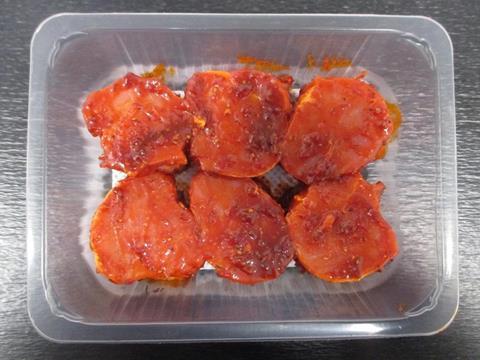 As the Sustainability Awards moves ever closer, we take a look at another of our finalists. Today is the turn of NEW PEEL by Korozo - a recyclable lidding film for PP based trays that has been nominated in our 'Recyclable Packaging' category.
Congratulations on being selected by the international judging panel as a Sustainability Awards 2020 finalist! Could you please introduce your successful entry and what's innovative about it?
NEW PEEL is a recyclable lidding film for polypropylene (PP) based trays. When combined with a PP tray, it allows the entire pack to be recyclable in existing and emerging PP recycling streams. Why is this important? Because PP trays are an emerging solution in the meat industry to replace polyester based trays which are not widely recyclable in the PET stream in many markets.
What's innovative? NEW PEEL is actually a recyclable laminate consisting of two specially developed PP substrates which maintain the high performance properties of more traditional materials of today's lidding (which are made of unrecyclable composites of PET and PE). The outer layer is for transparency and printability, the inner layer for excellent peel, transparency, antifog and barrier. The only "foreign" substances in the laminate are printing inks, barrier additives and adhesive which total only 5.5% of the overall weight (and much less when you consider the overall weight of the tray and lid together).
What are the environmental challenges in packaging that your entry addresses, and what impact do you hope it will make?
The packing of fresh and processed meat in plastic trays with flexible lidding films has added immense value to consumers through convenient and hygienic portioning and distribution of these important food products. But this convenience and hygiene comes at the cost of today's typical solutions (which are composites of PET and PE in both tray and lid) not being recyclable. NEW PEEL, in combination with a PP tray, is fully recyclable in PP recycling streams without compromising the convenience and hygiene values our consumers need.
I'd like to ask you about the broader picture beyond your successful entry. 'Sustainability' in packaging is multi-dimensional – both in terms of objectives and challenges. Could you comment on the most important roadblocks you identify from your position in the value chain, and the kinds of solutions you would like to see addressing them (e.g. areas of technological innovation, collaboration, regulation)?
KOROZO is a flexible packaging converter. We make films, laminates and pouches for brand owners globally using our extrusion, printing and converting expertise. But our customers bring those products to consumers. We have developed recycle ready alternatives for most of our products, and incorporate recycled content in most of our non-food products, but wide scale adoption of these solutions is hampered by three factors: on-cost for our customers, a general lack of infrastructure for collection and recycling and uncertainty in legislation. Of course, each of these factors also frustrates our collaborators up and down the value chain (or "round and round the circular value chain"). Perhaps the critical solutions needed are in collection and sorting: there is simply not enough waste material available today. If all waste were collected, economies of scale would give innovators enough feedstock to perfect recycling technologies, allowing standards to emerge, making regulators life easier, and bringing down costs for consumers.