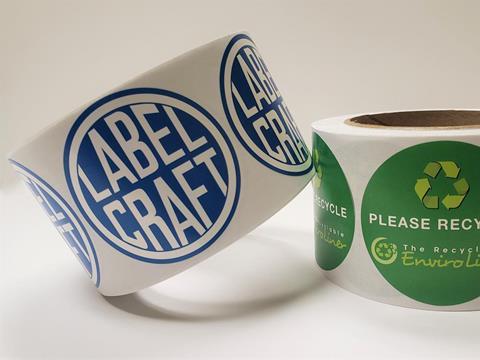 Labelcraft's recyclable release liner made from 100% post-consumer recycled paper is one of our Sustainability Awards 2021 finalists. To learn more about this innovation, we caught up with the company.
Congratulations on being selected by the international judging panel as a Sustainability Awards 2020 finalist! Could you please introduce your successful entry and what's innovative about it?
The Patented Recyclable Enviroliner is an eco-breakthrough for the label industry. The Recyclable Enviroliner is the world's first label release liner that is recyclable and made with 100% post-consumer recycled paper.
A traditional label release liner is made of virgin paper treated with a heavy coating of silicone that allows the label to release from the liner. But release liner with a heavy silicone coating cannot be processed at most recycling facilities, so it generally goes to landfill. Virgin paper is used because it provides a super smooth surface that stops the heavy layer of silicone from sinking into the sheet.
With the Patented Recyclable Enviroliner, we use a proprietary process that allows us to use uncoated 100% post-consumer recycled paper as the release liner. The Enviroliner can be recycled at standard facilities.
What are the environmental challenges in packaging that your entry addresses, and what impact do you hope it will make?
Our Patented Recyclable Enviroliner addresses a big challenge for many industries, not just the label industry. Every year millions of tons of release liner are added to our landfills just in North America alone.
With our Patented Recyclable Enviroliner, there is now a solution to a problem that has existed since the first label was invented. Our Recyclable Enviroliner is not only helping divert release liner from our landfills but also uses recycled post-consumer paper, which has a much lower environmental impact compared to the virgin paper used in traditional release liner.
It is our hope companies will start to realize the impact labels have on our environment and really look at not just their labels but other areas of their business as well when making decisions to become more sustainable.
I'd like to ask you about the broader picture beyond your successful entry. 'Sustainability' in packaging is multi-dimensional – both in terms of objectives and challenges. Could you comment on the most important roadblocks you identify from your position in the value chain, and the kinds of solutions you would like to see addressing them (e.g. areas of technological innovation, collaboration, regulation)?
When it comes to sustainability, there are many roadblocks that companies face. We have been in the label business since 1967 and have seen a multitude of changes to the industry in terms of printing methods, adhesives, silicones and material. With the development and launch of our Recyclable Enviroliner, we hope to disrupt the traditional industry mindset and cause companies to think about better ways/methods of producing and utilizing more sustainable products.
Governments are pushing companies to become more sustainable in their business operations and search for ways to reduce, reuse and recycle wherever possible. Our Recyclable Enviroliner merges naturally toward immediate, increased sustainability because it can be recycled in currently established recycling programs offered in all major cities and by all major waste management firms.
Our goal in developing this product was not to become famous, but because the label industry is a significant contributor of waste to our landfills every year. We saw a problem that needed to be solved. Through several years of research and development, we created the Recyclable Enviroliner to answer the growing waste management problem.
Since our liner performs the same as traditional silicone liner on automated application and print and apply equipment companies can seamlessly transition their labels to our product with no disruption or downtime to their production.