In the latest of our interview series with Sustainability Awards 2022 finalists, we speak to Ambev to find out about their collaboration with UBQ Materials Ltd and Pisani that converts unrecyclable, unsorted waste into thermoplastic pellets.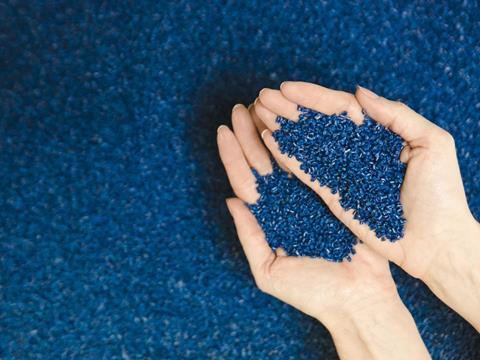 You're a finalist in the Sustainability Awards 2022. Congratulations! To start off, could you summarise your entry, the Carbon-Negative Circular Economy Supply Chain, in less than 50 words?
To create a value chain and give a new use to waste, Ambev, in partnership with UBQ Materials Ltd. and Pisani, implemented a new technology that converts unrecyclable, unsorted waste into thermoplastic pellets that can be used in the manufacturing process of different products, including sustainable packaging (crates, tables, chairs). UBQ™ material was certified as carbon negative by Quantis, which means that it goes beyond carbon neutrality by preventing more greenhouse gas (GHG) emissions than are generated during its production.
Why do you think the judges were impressed with your entry? Tell us about what is innovative about your project and/or about its impact on packaging sustainability.
We believe that the judges were looking for the purest form of integration with the environment, and Ambev has accomplished this by using advanced material and innovative technology to create value in the supply chain. This project empowers Ambev to divert waste and expand circularity in a collaborative way.
With this pilot, we repurposed more than 500 kg of waste that would otherwise not be recycled and diverted it from landfills. UBQ™ material avoids the equivalent of 11.7 kilograms of carbon dioxide (11.7 kg CO2eq, GWP20) for every kilogram of UBQ™ due to the prevention of methane emissions from landfilled organic waste. All in all, this pilot avoided 5.8 tons CO2eq that would otherwise be released into the atmosphere and also providing a solution for hard-to-manage waste and producing recycled materials.
When and how do you intend to launch/commercialize this innovation?
In 2020, Ambev joined with the Israeli company UBQ Materials, and Pisani, our packaging supplier for crates and trade material (chairs and tables). Our objective was to develop solutions to reduce the carbon footprint of packaging materials by introducing UBQ™—a thermoplastic converted from 100% landfilled-destined waste. After two years of development and testing, we launched a pilot at the beginning of this year and are exploring opportunities to scale up this solution across our supply chain.
You're shortlisted for the Climate (Pre-Commercialized) category. What do you see as the key demands, challenges and opportunities in relation to climate change?
While Ambev's sustainability commitments are very ambitious and have been presenting very positive results, the key factor to success is the contribution to society. The main gain is to transform waste into raw material and guarantee value creation and circularity and seek opportunities to offset greenhouse gas emissions.
We are building a climate action path through our sustainability goals for 2025. Our GHG gas reduction goal is science-based (SBTi) and consistent (we aim to reduce by 1.5 degrees in this period). Between 2017 and 2020, we made important progress with reducing absolute GHG emissions in our direct operations (Scope 1 and 2), by almost 11.6%, and our value chain emissions (Scope 1, 2 and 3) by more than 9.5% per hectoliter. We assess and calculate emissions from our entire value chain. Of the company's total emissions, scope 3 emissions represent more than 80%, so we engage our partners to develop innovative solutions with us.
Our Ambition is to Achieve Net Zero in direct operations by 2030 and in our value chain by 2040. Climate change is urgent, demanding a complete systemic change and more ways of collaboration and we're constantly looking for opportunities and how do we speed up innovation and how do we engage this chain? The good news is that there are plenty of creative ideas that can be implemented faster with the right collaboration and focus.
Opportunities in relation to climate change
UBQ™ is a sustainable material made from unsorted household waste, including all organics: banana peels, chicken bones, pizza boxes together with mixed plastics made into a homogeneous thermoplastic and is a climate-positive alternative to oil-based plastics in the manufacturing of durable applications across industries.
In this pilot alone, we prevented the equivalent of 5.8 tons of carbon dioxide (GWP20) from being released into the atmosphere in the form of landfill methane. Methane, which is released when organic waste decomposes in landfills, is a short-lived but very potent GHG. This means that reducing methane emissions is key to slowing down near-term climate change. It is finally starting to get the attention it deserves, but most policies are currently focused on methane from the fossil fuel sector. UBQ presents a unique way to reduce methane from waste management and facilitate the transition to a circular economy.
Winners will be announced at a special awards and networking dinner taking place the evening of the 14th of November during our 'Innovation Horizon' event. You can book tickets for the dinner and/or the conference, which reveals the cutting-edge sustainable packaging innovation that will be needed over the coming 5+ years, here.