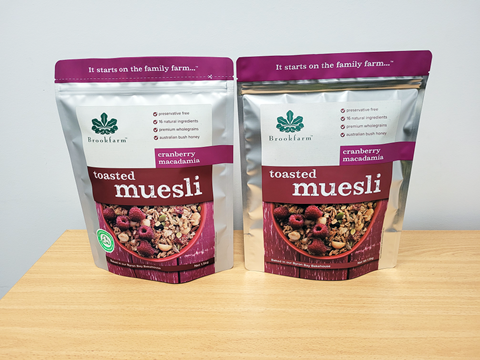 In the latest of our Sustainability Awards finalists interview series, we take a closer look at the Brookfarm Roll 'n' Recycle Pouch from Australian company O F Packaging – a 100% kerbside recyclable high-barrier stand-up pouch that has been nominated in our Recyclable Packaging category.
---
Congratulations on being selected by the international judging panel as a Sustainability Awards 2020 finalist! Could you please introduce your successful entry and what's innovative about it?
The Brookfarm Roll 'n' Recycle Pouch is 100% recyclable, and the first of its kind to be recyclable through existing kerbside infrastructure in Australia. By rolling the pouch into a semirigid shape and using the pre-adhered polyethylene (PE) label provided on the pouch to keep the structure in place, we change the format of the pouch. While typical flexible packaging pouches are two-dimensional when empty and can end up contaminating the paper stream in mechanical recycling facilities, the rolled pouch format instead moves through the various conveyer belts and into the plastics stream where it belongs.
This pouch aligns entirely with the National 2025 Waste Targets set by the government, and provides better opportunities for 100% PE or polypropylene (PP) pouch packaging to reach recycling centres across the country, increasing the low level of recycling rates here in Australia.
The use of straight, high-barrier PE eliminates the contamination of other polymer types in the mix and creates a better recycled feedstock for re-use into new products, as a beneficial polyolefin material structure. This single plastic type pouch means that when processed through kerbside recycling collection with the assorted rigid containers, it can be easily sorted into the PE stream without issues. We've created the pouch using a specially formulated rigid PE film to provide the strength needed for the pack to stand well on in a retail environment, while also providing the desired semi-rigid format when rolled.
As far as we're aware, the successful movement of flexible/soft plastic packaging through mechanical recycling infrastructure has not been achieved before by similar methods.
What are the environmental challenges in packaging that your entry addresses, and what impact do you hope it will make?
The main barriers to changing flexible packaging formats to simple, mono-polymer structures and allowing for substantial reduction of these materials to landfill here in Australia has been down to three main factors:
- Meeting chemical barriers required for product protection and shelf life requirements
- Low collection and recycling rates for soft plastics
- Limited re-use of recycled materials.
The first point has mainly been solved by packaging manufacturers like O F Pack, with an array of high-barrier options now available for recyclable, mono-polymer packaging formats. This allows for the elimination of troublesome polymer layer combinations such as aluminium foil, nylon and polyester (PET), as well as coatings like polyvinylidene chloride (PVDC) that are poor for the environment.
Convincing brand owners to change across to recyclable packaging structures however has been really difficult, especially when current systems for soft plastic recycling here in Australia allow for 30% of secondary materials like those mentioned above, and rely on end consumers returning their own soft plastics to particular store locations. Many regional Australians don't live close by to collection bins or are too time-poor to involve themselves in store drop-off schemes, instead sending all their soft plastics to landfill.
Our product innovation helps fix the accessibility and contamination issues of the current scheme, and with a national adoption of something like Roll 'n' Recycle, we could see far greater quantities of 100% polyolefin packaging being collected and recycled at a higher rate than at present.
The use of mono-polymer packaging provides a much better recycled feedstock at end of life than current products on the market going through the store drop-off system, due to reduced contamination of other polymer types and metallised film components. While currently, recycled soft plastic packaging waste in Australia is primarily used in small quantities for creating outdoor furniture products and some roadways, by eliminating other polymer types, we have the potential to forming recycled soft plastic materials back into packaging (which is over 50% of the world's plastic usage). We hope the combination of mono-polymer packaging like this pack, in addition to technology like the Roll 'n' Recycle label, will not only drastically increase the amount of packaging diverted from landfill, but broaden the end-of-life possibilities for these materials to be re-used.
I'd like to ask you about the broader picture beyond your successful entry. 'Sustainability' in packaging is multi-dimensional – both in terms of objectives and challenges. Could you comment on the most important roadblocks you identify from your position in the value chain, and the kinds of solutions you would like to see addressing them (e.g. areas of technological innovation, collaboration, regulation)?
For years we've campaigned against simple 'plastic hate' and the unrealistic push to ditch flexible packaging altogether due to end of life waste concerns. Looking at the entire lifecycle of flexible packaging, including manufacturing, transportation, packing and shipping to stores/end consumers, the carbon emission benefits of flexible plastics are greater than rigid containers like glass or HDPE tubs and even if we could change, other drastic environmental effects would occur.
Flexible packaging has its place and purpose, and allows for product protection and extended shelf life for a variety of goods. But the very benefits of the low-cost, versatile product became the very negatives associated with soft plastics – the world classing them as disposable, cheap waste and not a vital resource for recovery.
We recognized that while flexible packaging was more sustainable in some areas, the end of life waste issues were not, and so we set out to re-invent how flexible packaging functions into a start-to-end sustainable solution that has benefits across the entire supply chain.
For sustainable packaging like our Brookfarm Roll 'n' Recycle Stand Up Pouch to succeed on a large scale, we need legislation and ownership across all bodies to adopt mono-polymer packaging if applicable to a particular product, and incentives for brand owners to pay that bit more for this when the outcomes are going to be greater.
Already we've had pushback from some Material Recovery Facilities (MRFS) stating that despite proven evidence the rolled pouches move through mechanical recycling, they don't want to see innovations like this coming through their facilities. They don't benefit financially due to the commodity value for recycled soft plastics being so minimal, and the lack on awareness for innovations like this will cause them issues in the beginning with the wrong types of pouch packaging being thrown into recycling bins across the country.
The solution to these concerns is in both education from a consumer level to ensure the best collection outcomes, and investment in product manufacturing from recycled plastics to allow for an increased demand for recycle soft plastic materials that can benefit MRFs. Again, government legislation can greatly help our fight to reduce landfill waste by requiring for a minimum amount of recycled content to be present in all plastic goods and non-food contact packaging products as is happening in some other countries across the UK and Europe.