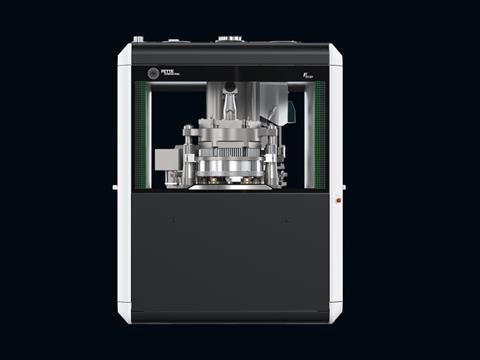 Fette Compacting is presenting its new FEC20 capsule filling machine at Achema in Frankfurt. As the smaller version of the FEC40, it now makes its innovative technology available for medium-sized output volumes of up to 200,000 capsules per hour.
2016 saw Fette Compacting revolutionizing capsule filling technology: thanks to numerous technological innovations, the FEC40 achieves an unmatched output of 400,000 capsules per hour with its Duplex Concept design. The FEC20 is now celebrating its world premiere at Achema, the leading international trade fair, in Frankfurt am Main. Fette Compacting has adapted and further developed the technical concept of the FEC40 for its second capsule filling machine in an effort to make it available for medium-sized batches of up to 200,000 capsules per hour.
A step which was very accurately measured, according to Managing Director Jan-Eric Kruse: "We have designed our capsule filling machines as a series right from the start", he explains "The FEC40 is now available as a smaller version in the form of the FEC20. The family has grown." Decoupled process steps The FEC20 is directly derived from the FEC40 whose innovative ideas Fette Compacting is now launching for the first time in the form of a single rotary press single discharge capsule filler. Technologically, the FEC20 and FEC40 complement each other perfectly: both use the same format parts thereby facilitating exchanges between machines. What is so innovative about both machines? Each individual capsule filling process step can be controlled and monitored separately. "Prior to the FEC series, the assemblies in capsule filling machines were controlled by mechanical coupling. By using servo and torque motors, we can decouple individual process steps", claims Kruse. "We define the optimal parameters for each process step, thereby improving both quality and output per time unit."
Another revolutionary feature is represented by the patented tamping pin station assembly system enabling users to change dosing methods, products and batches in no time. When additional pre-fitted tamping pin stations are used, the machine is ready for production within an extremely short timespan. Furthermore, up to three pellet stations can be installed in the machine. "The fact that we can dismantle and clean the filling stations outside the machine has enabled us to significantly reduce conversion and cleaning times. This ensures that the FEC20 is fully operational again quickly", emphasizes Kruse. Intuitive operation One particular feature of the FEC20 is its 19" touchscreen HMI. The user interface offers a permanent overview of all process and quality parameters and is based on the same logic which has already been tried and tested in the FE series tablet presses offered by Fette Compacting. The database contains all formulations and user process parameters while the system automatically and immediately examines each entry for consistency. The system also continuously measures the filling levels of all capsule and product containers during ongoing production, as well as visualizing the corresponding information for the user. All batches are monitored, logged and saved in full. Extensive rights management enables users to assign certain functions to various users. Upon conclusion of the production process, each individual production step can be evaluated via an event log.
More info: