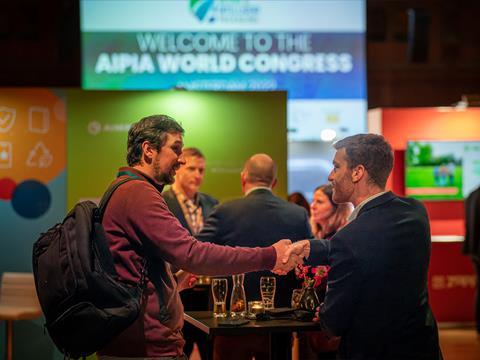 In just a few weeks' time, the AIPIA World Congress will be returning to the Beurs van Berlage in central Amsterdam. With a focus on smart packaging, visitors from across the value chain will have an unparalleled opportunity to meet each other and discuss the latest trends and innovations. Eef de Ferrante, managing director of AIPIA, lets us know more about what attendees can expect from the event.
I think a good place to start would be: what is the AIPIA World Congress and what is it showcasing?
The Congress brings together the industry's leading developers, across the whole technology spectrum to showcase the latest innovations and to discuss applications and the impact of smart packaging in the consumer space, supply chains, and food waste, as well as how it can be utilized for sustainability issues. We will look at everything from food waste to how AI will impact the future of packaging.
What are the key goals of the Congress?
To enable people to connect, see live demonstrations of some of the latest tech and learn about what is going on in the Smart Packaging sector. It is very fast-moving tech across just about every area it operates, so both Active and Intelligent packaging. The Congress brings people together and enables them to make connections that would otherwise not be possible.
What is a stand-out piece of the agenda that people won't want to miss?
We always love the energy brought by the Brand Challenge, or, if we call it something a bit different, the Technology Presentation Platform. This year it's a major beverage company in the driving seat and they will set a challenge whereby technology providers have to suggest a solution in a 3-minute pitch. It's always very exciting and gives everyone a real buzz. However, we like to think the whole agenda is unmissable. There is something for everyone!
Who will be attending this year's event?
As usual, we will see a strong showing from Brand Owners and other stakeholders along the entire value chain. The issues we address are relevant to packaging converters, logistics companies, sustainability experts, packaging designers as well as the Brands and Retailers. For example, this year Amazon is participating. It is not just the industry talking to itself, it is a truly industry-wide event.
What would you say to someone who is undecided about attending so far?
Simple to answer: book now! The AIPIA World Congress is the only truly global event for Smart Packaging. It represents the state of the industry and the state-of-the-art. This year's lineup of speakers is stellar, and they will address the issues currently facing all parts of the supply chain as well as ESG and sustainability. Everyone who attends will get some value from it.
Click here to learn more about the AIPIA World Congress and book your tickets.