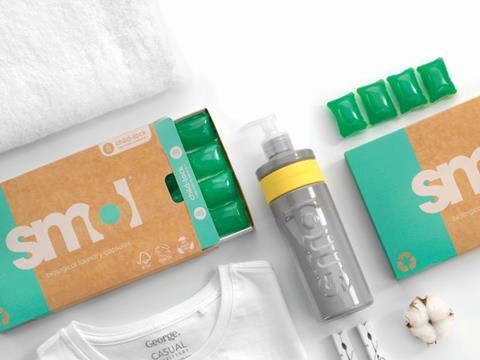 Elisabeth Skoda looks at just a small selection of notable developments of primary packaging geared towards e-commerce.
E-commerce was on a strong growth trajectory even before the pandemic struck, but of course has been given an extra boost as more and more people turned to shop online while they avoided mixing with others in brick and mortar shops. In the context of this development, more companies are developing packaging solutions specifically geared towards e-commerce applications as the market expands further.
Wine that fits through the letterbox
One of the companies that have centred their business model around e-commerce packaging is Garçon Wines. Its reimagination of the traditional glass wine bottle into a flat bottle that fits through a standard letterbox and is made from 100% recycled PET is custom-made for e-commerce. The company has come a long way since its beginnings in 2017.
"When we first introduced the concept, we only had a handful of prototype bottles, but the interest it generated made us realize we had the opportunity to create a scalable packaging solution for the wine industry," explains the company's CEO, Santiago Navarro. "Traditional wine bottles come from an era when products were moved by horses. We need packaging for an era that uses electric vehicles, and recycled PET fit the bill."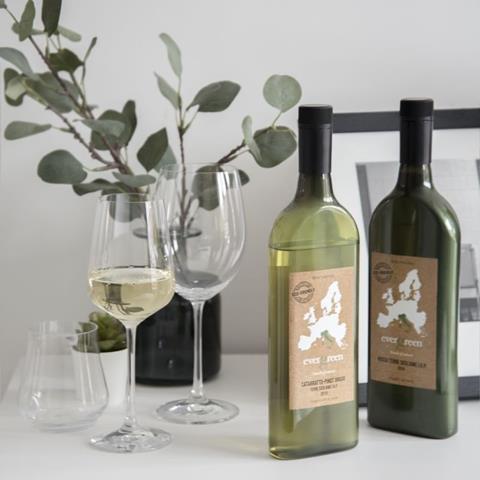 Shipping beverages is notoriously tricky, and there is an ever-present risk of leaks and damage. Wine itself comes with its unique set of challenges, but there are reasons why it can work particularly well in an e-commerce context, says Mr Navarro.
"Wine is a truly global product that comes with an extremely complex supply chain with many steps between the winery and the dining table. Due to the big choice in the wine market, it naturally is a product that can work well in an e-commerce setting. Our bottle is lightweight, spatially efficient due to its design, and shatter-proof, while respecting the heritage and tradition of wine by looking like a wine bottle. It is low on energy and recyclable."
Garçon Wines is now planning to expand its model to other drinks.
"We recently secured a major investment in our parent company Delivering Happiness Limited, and we will launch a dedicated, multinational cleantech packaging business arm for wine and other drinks, which will operate alongside their sustainable wine wholesale business," adds Mr Navarro.
Laundry tablets through the letterbox
Moving away from wine for a while, another company that centres its business model around letterbox delivery is smol, a UK-based start-up that delivers cleaning supplies such as laundry and dishwasher tablets directly to customers' doors, cutting out the middle-man.
"We wanted to radically improve different aspects of the products and packaging for cleaning supplies, but also design a business whereby we could sell direct to our customers and nurture an ongoing relationship," explains Matt Gandy, creative director at smol.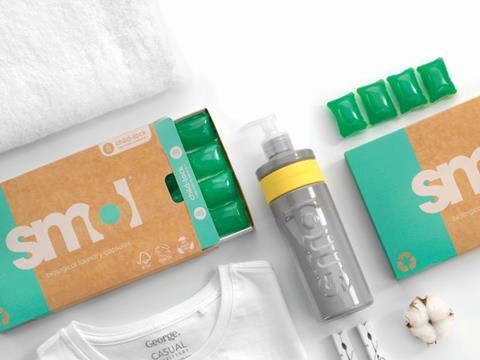 smol's laundry and dishwasher tablets have been designed to be posted through the letterbox, and the product is formulated to be concentrated, which means that less packaging is used per capsule. This e-commerce friendly design comes with other sustainability benefits, says Mr Gandy.
"We believe our packaging is the first 100% plastic-free packaging for laundry capsules and dishwasher tablets, made from FSC approved cardboard. We try to make sure that all our packaging is 100% recyclable and compostable / biodegradable where possible. On top of that, we save our customers driving to the supermarket. Studies show delivery of goods gives a reduced carbon footprint compared to a conventional shopping trip, producing 4.093kg less CO2 on average per delivery."
Direct-to-consumer boom
Mr Gandy has observed a growth in direct-to-consumer brands, driven by convenience and value, and by the fact the model can suit smaller brands who don't want or need to rely on the supermarket as their route to the customer.
"The public are increasingly supportive of independent brands and trust them to deliver on quality and sustainability. The pandemic has certainly accelerated both these trends, and we're certain that this channel will continue to grow. At smol we are focused on how we can help consumers shift to more eco-friendly products. We've expanded already into refillable surface sprays and animal fat-free fabric conditioner, and we have plans for more new products and new markets across Europe."
Bag-in-Box and frustration-free packaging
E-tailers have strict requirements for what packaging is acceptable to be used through their channels, and liquids such as wine can prove particularly tricky. Standardization can facilitate the process. A big step forward was Smurfit Kappa's three-litre bag-in-box packaging design receiving Amazon's 'Frustration-Free Packaging' (FFP) certification. Described as a world first for a generic packaging design, it is applicable for a wide range of products. This means that businesses selling on Amazon Marketplace can now use this ready to go, pre-certified bag-in-box design avoiding the need to go through costly and time-consuming testing at a specialized ISTA certified laboratory to gain FFP certification.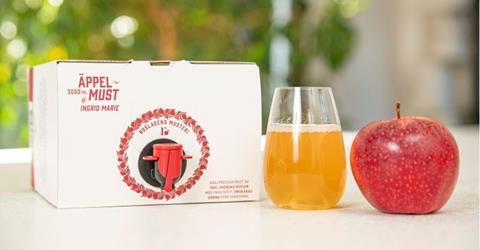 One of the companies to benefit from this new frustration-free packaging is When in Rome, a wine retailer that focuses on selling wine in bag-in-box and other alternative formats. Rob Malin, CEO at When in Rome, talks about the process.
"The frustration-free packaging process at Amazon for liquids is especially rigid, as they could ruin other items in the van if they break. But once you have the certification, Amazon won't wrap the pack in another box. You can design the packaging, put it into Amazon, and it will come out in exactly the same format, which is better for the environment, consumers and wine producers."
A balancing act
As an agricultural, perishable product, transporting wine comes with some extra challenges, as he explains.
"You can treat wine with chemicals to mitigate its inherent fragility, but that would impact on the flavour. There is a trade-off between reducing product damage and reducing packaging; reducing packaging often increases damage. The challenge here is to satisfy customers who want to buy as sustainably as possible but also want the pack to reach them in pristine condition. If you ship a pallet with bag-in-box products without extra protection, they will arrive scratched, so they have to be wrapped into another layer of packaging."
Bag-in-Box helps the wine to stay fresh for six weeks thanks to the tap that works as a vacuum seal. Its design lends itself for e-commerce channels, says Mr Malin.
"E-commerce is a great channel for bag-in-box, as for home delivery, people won't worry about size. In a corner shop you're not going to have much luck selling bag-in-box wine as it's quite heavy to carry back to your house. Additionally, in e-commerce, the average transaction size is six bottles, so bag-in-box, instead of costing more than an average bottle, seems cheap in comparison. Bag-in-box is 40% lighter than glass bottles and it is square – it makes sense to put square things in square containers, as it helps us to get triple the amount of liquid on the pallet."
This was just a quick glimpse at three of the innovations out there; we will be covering a lot more within Packaging Europe, the Sustainable Packaging Summit and the Global Packaging Innovation Forum over the coming months.