Nicola Anderson, senior associate and patent attorney in the Advanced Engineering group at European intellectual property firm, Withers & Rogers, looks at a patent application that protects a method of forming a seal between two sheets of renewable plastic.
Sustainability has become a key area of focus for most, if not all, sectors of commerce. Due to net-zero emissions targets and increasing consumer awareness of environmental issues, the packaging industry is under intense pressure to move towards reusable and recyclable materials, without impacting productivity or efficiency.
However, the move from single-use to renewable materials is not straightforward and may require changes to existing production methods. Current packaging processes that use sustainable materials are often much slower or more expensive than their traditional counterparts, making innovation paramount to maintaining profitability and productivity. For example, if the thermal properties of a sustainable plastic are different to those of a previously used plastic, processes involving melting, expanding, or deforming the material would have to be modified or completely re-designed, which is likely to be costly and time-consuming.
In 2020, Nomad Foods Europe Limited filed a patent application (GB2596843) to protect a novel way for packing with a renewable material. This patent protects a method of forming a seal between two sheets of renewable plastic, and a device for forming that seal. Having claims to both a method and a device increases the scope and strength of the commercial protection provided by the patent.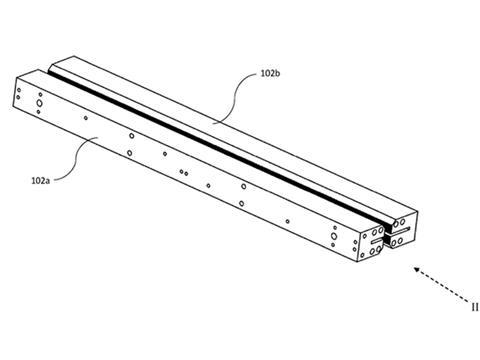 The device (pictured) consists of a set of jaws in parallel, of any length, which can enclose two layers of recycled polymer, such as polyethylene. Heat and pressure are applied to seal the two layers together.
The face of each jaw can be smooth or have a series of projections and recesses to increase their surface area and aid in sealing the layers. Additionally, a slot is cut into both faces, which can house a blade or cutting utensil. This blade or cutting utensil can be used to slice through the sheets as they are sealed together, potentially separating bags as their ends are sealed. The sealing faces are heated to between 130°C and 140°C and the layers of plastic are clamped together for between 200 and 600 milliseconds.
Although similar packaging methods already exist for non-recyclable plastics, this device is innovative because of the materials it can seal, and the speed at which it forms the seals. Although it could be considered obvious to process sustainable materials with the current method of sealing, and current jaw-based sealing devices, the inventor found that this did not create reliable seals, and the seals took far longer to form. The innovation centres on the inventor's use of a two-dimensional diamond configuration on the sealing faces. This diamond configuration creates multiple seals that individually would not fully seal the packaging, but in combination, create a sufficient seal in an acceptable time.
This innovation is particularly important at a time when more companies are transitioning to sustainable packaging materials. This technology will enable Nomad Foods to operate more efficiently than its competitors. It could bring additional benefits if competitors wish to purchase the device for their own production plants or obtain a licence for the patent.
Protecting the packaging process with a patent will help to prevent it from being copied by competitors, while also serving as a useful marketing tool. Obtaining a patent can also help to demonstrate that a company is innovative and is actively seeking to address recognised challenges with existing products.