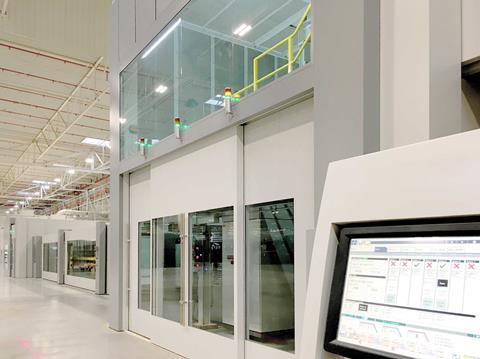 In January 2017, international packaging and paper producer Mondi announced the expansion of its heavy-duty corrugated capabilities at the Mondi Simet plant near Poznań, Poland.
The technological upgrade included the installation of a state-of-the-art 2.8 metre corrugator with three single facers. The in-house production of double wall board is fully productive, and the production of heavy-duty triple wall board is ramping up according to plan with an expected production start in the first quarter of 2018. The market is following the enhancement of Mondi's heavy-duty portfolio in Poland with keen interest, with customers in the automotive, chemical and furniture sectors already familiar with the benefits offered by Mondi's innovative heavy-duty solutions.
Following the start-up of the corrugator in August, the installation of all converting equipment is now complete as well. The new plant layout and expanded production space allow for an excellent process flow. Experts throughout the Mondi network supported the installation and activation of the new equipment. Highly experienced machine operators have relocated to Mondi Simet and additional corrugator operators have also been hired. The expanded plant will have quadrupled its capacity and tripled its production space, making Mondi Simet a major hub at the forefront of corrugated packaging in the Poznań region and beyond.
As part of the upgrade at the Simet plant, Mondi also installed a 2.40 metre box maker with a stitcher for heavy-duty conversions, enabling short production runs with boards of up to six metres in length, as well as a rotary die cutter for high-impact retail and shelf-ready packaging.
Armand Schoonbrood, COO of Mondi Corrugated Packaging, notes that "The expansion of Mondi Simet represents the biggest capital expenditure in the history of Mondi Corrugated Packaging. Our customers face a diverse range of packaging challenges, and we are excited that our new independent board production capabilities can contribute to their success. The modern quality control features of the new corrugator, such as closed-loop process control for the automatic adjustment of paper temperature and moisture, as well as real time camera inspection to detect defects, will further support consistent high-quality deliveries to Mondi Simet customers".
More info: