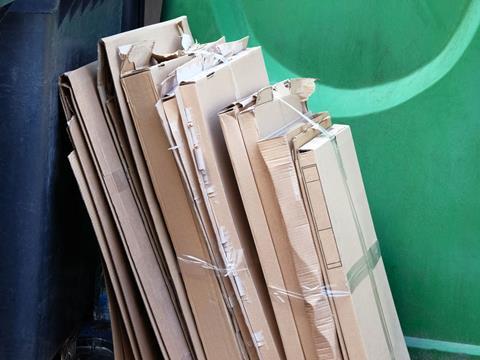 Industry bodies from across the packaging value chain are warning of a shortage of cardboard and paperboard, due to decreased recycling collection rates during the coronavirus crisis.
In the UK, a letter has been sent from The Recycling Association to the Department for Environment, Food and Rural Affairs (Defra) asking it to ensure that recycling collections from households are maintained.
Simon Ellin, the organization's chief executive, commented: "Our members are hearing reports from all corners of the world that essential cardboard, paper, glass, metal cans, and plastics are in very strong demand. We've got to keep our supply chains open to ensure food and medical supplies can reach those who need it.
"If you think about medicine bottles or tubes, these are often protected by a cardboard box too. I know there is strong demand for essential recycled cardboard from manufacturers right now."
Speaking on the importance of keeping international supply chains open, Ellin commented: "I have asked Defra to keep export markets open as the essential goods we need don't necessarily come from here in the UK. We, therefore, have to supply world markets so that they can send their goods back to us."
Cepi, a European association representing the pulp and paper industry, has also recognised the current strain on recycling systems. Its Director-General, Jori Ringman, told Packaging Europe: "Recently, individual cities in some Member States have announced that they might have to reduce separate collections or even close sorting centres due to the current COVID-19 crisis, especially in relation to health and hygiene concerns for workers.
"If we fully understand the concerns for workers' safety, we have warned authorities of the risk of stopping separate collection of paper for recycling from households and supermarkets, as recycled fibres are an essential part of our supply chain."
According to Ringman, the effects of reduced collection could be severe: "Ensuring that the collection of paper and board continues smoothly during the crisis is important. Otherwise, it would create a shortage of raw material within weeks and force us to stop our production."