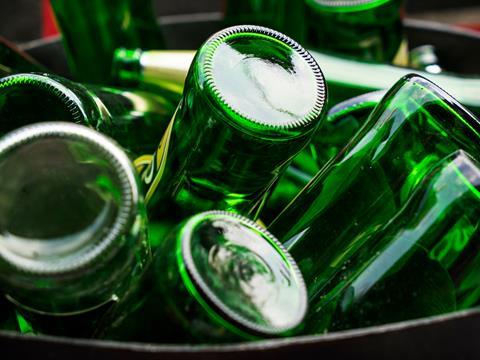 Glass collection and recycling stakeholders today launched a program that aims to increase European collection rates to 90% by 2030 and connect the glass value chain.
As a pan-European action platform, "Close the Glass Loop" is a bottom-up, collaborative, public-private partnership that aims to boost glass collection rates, in comparison with a current rate of 76%.
Originally announced in November 2019, the initiative gathers twelve European federations representing glass manufacturers, processors, brands, packaging recovery organisations, and municipalities. The founding partners include FEVE, FERVER, spiritsEUROPE, UNESDA, and EXPRA.
To ensure local implementation of measures and tailored solutions, the European Platform will work hand-in-hand with national partners in every EU Member State.
At today's online launch event, over 200 participants joined founding partners and national representatives from eleven countries – France, Germany, Italy, Poland, Portugal, Spain, the United Kingdom, Austria, Belgium, Sweden and Ireland – to officially launch the platform and sign off on a European Action Plan.
Joining the online event via video link, Virginijus Sinkevičius, the European commissioner in charge of the environment, fisheries, and oceans, commented: "Glass is a great example of a circular material. You are already achieving outstanding results in waste collection and recycling. But today you show that you want to do more, that you are determined to bring levels up across the EU and seek the room for improvement all along the chain. I am confident that you will complete your mission and make the "Close the Glass Loop" platform the springboard to the higher levels of the waste hierarchy."
The European Action Plan, presented by Michel Giannuzzi, president of the European Container Glass Federation (FEVE) at today's launch event, aims to address structural challenges in the glass collection and recycling chain which are common to most EU countries.
With municipalities seen as a key player in the process of mobilising collection, "Close the Glass Loop" seeks to establish strong partnerships with local authorities to expand source-separated glass collection, improve glass collection in large cities and tourist areas and ensure that the use, collection, and recycling of glass containers are better supported by common guidelines and tools, at all stages of use.
Setting out the Action Plan, Giannuzzi noted: "Today, 76% of glass packaging in the EU market is collected for recycling – but there is more to be done. We need to fully seize the advantages offered by glass and recycle more and better. And to this end, we need the active commitment of the whole value chain. The level of engagement in "Close the Glass Loop" to date lays really promising grounds for success and I am very much looking forward to the positive impact it will create over time."