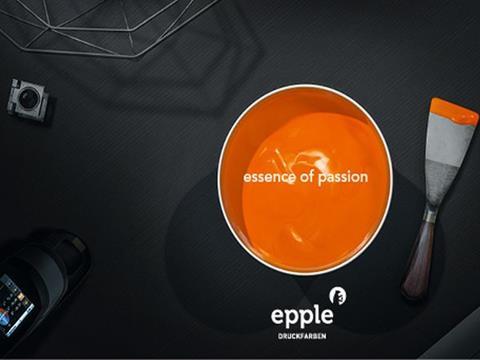 "Essence of passion": Full of passion for packaging print, Epple Druckfarben AG presents its capabilities at interpack, Düsseldorf, (May 4 to 10, 2017).
Diverse Epple environmentally friendly colour and varnish systems provide everything that is required for intelligent packaging print. Epple looks forward to meeting brand owners, print shops and agencies as part of the PrintCity Alliance booth in hall 11, B04.
Ink manufacturer Epple will focus on the trade show theme "Intelligent Packaging", pre-senting path breaking, innovative colour and varnish systems for the printing of folding boxes, corrugated boards and tins. Thus, Epple meets the most diverse packaging requirements of the industry, particularly of the food sector, with their high standard of quality control. "Epple products for food packaging printing are migration harmless, organically neutral and at the same time they guarantee the highest quality standards in colour intensity, precision and printability", summarizes Gunther Gerlach, Chairman of the Executive Board of Epple.
Epple considers itself a member of the PrintCity Alliance. The managing director of PrintCity, Rainer Kuhn, warmly welcomes the ink manufacturer to the joint exhibition booth, where the main topics are food safety and finishing: "We are glad that with Ep-ple we have found a highly competent and innovative partner. Our objectives and strat-egies coincide, so that Epple is highly complementary to our alliance member portfolio."
With the increased internationalisation of the packaging market, Epple as a leading manufacturer of offset printing inks is widely represented in many European markets. Exclusive distribution partners with trained specialists offer the wide ink and varnish portfolio, thus Epple meets the requirements of internationally operating print groups. interpack is the ideal place to discuss potential projects.
New: Printing Inside PackagingEpple is a pioneer within the sensitive topic 'migration of materials in direct contact with food'. The sustainable ink systems of Epple include BoFood MU Next Generations for the outside printing of packaging, as well as with the migration reduced BoPack GAMA for special applications. With BoFood Organic, Epple provides the global printing industry the only offset printing ink for direct food contact, and hence, for the internal printing of food packaging. Intelligent packaging can use information and advertising areas on their inner faces, for example QR-codes, product information or branding. This opens unprecedented possibilities for branded companies, production specialists and designers.
More info: