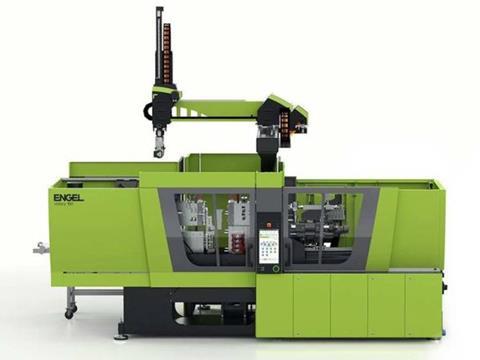 Highest degree of efficiency with the best quality and shortest cycle times. This is the daily challenge that the manufacturers of beverage caps face. For the production of 26 mm caps with tamper-proof bands made from HDPE, ENGEL is presenting a state-of-the-art solution at the NPE. During the five days of the show, the production cell will run at a cycle time of two seconds, and also achieving outstanding energy efficiency and the highest degree of process consistency.
At the core of the highly-integrated solution is an all-electric e-cap 2440/420 US injection molding machine, equipped with a 96-cavity mold by z-moulds (Austria). On the periphery, ENGEL integrates a dry-air system by Eisbär Trockentechnik (Austria), and an optical inspection system by Intravis (Germany) into the overall concept.
To combine minimal energy consumption with outstanding process consistency and precision in the production of beverage caps, ENGEL relies on the all-electric high-performance machines of the e-cap series, which, with clamping forces of 120 to 460 US tons, were developed specifically for this market segment. With their high-performance servo-drives, the e cap machines ensure the required plasticizing capacity and maximizes part production quality even when using the new high-strength HDPE materials with an MFI significantly lower than 2 or even 1 g/10 min. "Geometrically, beverage caps have reached their lightweighting minimum", clarifies packaging expert Jon Kelm, "while simultaneously placing higher demands on precision and repeatability." In spite of its impressive performance, the e cap uses very little power and cooling water, even at high speed. The increased ejection and clamping forces help to achieve very short cycle times.
Highest performance for thin-walled containers
At the NPE2018, ENGEL packaging is represented with a total of two integrated production cells. At its exhibition booth (South Hall, Booth S27009), Campetella Robotic Center from Italy is producing airline cups in thin-wall technology on an all-electric ENGEL e motion 740/240 T US injection molding machine using a mold produced by Fostag (Switzerland). The cups are removed from the mold with the help of high-speed automation, and packed immediately after injection molding.
With cycle times significantly below 3 seconds and injection speeds of more than 500 mm per second, the all-electric machines of the e-motion series are being increasingly used for the production of thin-walled containers. The closed system for toggle levers and spindles guarantees optimal, clean lubrication of all moving machine components at all times, thus complying with the strict hygiene requirements of the food industry.
ENGEL at the NPE2018: West Hall, Booth W3303
More info: