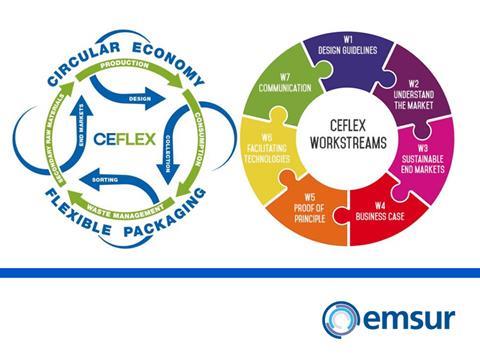 EMSUR has become the most recent member of CEFLEX, a consortium of European companies that promotes the circularity of flexible packaging.
CEFLEX includes more than 130 bodies, representing the whole of the flexible packaging value chain, that have joined forces to promote a circular economy model and plan to develop an infrastructure for the collection, sorting and reprocessing of post-consumer flexible packaging throughout Europe by 2025.
In 2020, CEFLEX intends to develop and implement a road map for flexible packaging based on sustainability and the circular economy which, amongst other aspects, includes guidelines on design, added value, and resource efficiency. This road map will reportedly be available to all interested parties, not just members of the consortium.
CEFLEX also envisages the continuity of the projects already underway: REFLEX, a project that studies and seeks solutions to the technical barriers in mechanical recycling of post-consumer flexible packaging and FIACE, a project that analyses the added value of flexible packaging for the circular economy.
Alberto Gallardo, CEO of EMSUR commented: "EMSUR's participation in this initiative is a step forward in our commitment to achieving a sustainable future for flexible packaging based on a circular model as a real and reliable alternative. Through CEFLEX we contribute to developing the necessary infrastructure to recycle flexible packaging and to promote its circularity."
EMSUR's latest innovation in this field has recently been presented: its compostable barrier bag. According to the company, this new product can be used as a packaging solution and compostable alternative for food products that require bio, natural or organic positioning.
In addition to its CEFLEX membership, EMSUR also forms part of the Circular Plastics Alliance, an initiative that aims to boost the circular economy of plastics by promoting the use of recycled material and quality recycling processes.