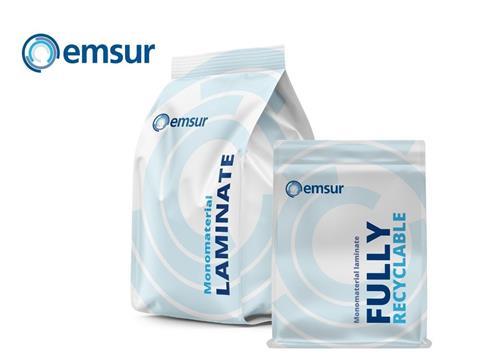 Flexible packaging group EMSUR launches EM-Full RFlex, a new range of PE and PP-based flexible packaging, with the aim of improving recyclability and food preservation properties.
The company says its new flexible packaging solutions were developed in collaboration with Innotech's R+D+I Centre, as well as EMSUR's Saymopack and EMSUR SPO's production sites in Valencia and Ballée respectively.
According to EMSUR, the EM-Full RFlex range replaces conventional duplex structures with monomaterial substrates to provide "excellent barrier and sealing properties" to the packaging.
It adds that its new laminate is aimed at fast-moving consumer goods (FMCG) customers, who require packaging solutions for bags, pouches or Doypakcs with monomaterial compositions.
The barrier properties of the new range are apparently suitable for various product categories, including snacks, confectionery, coffee and tea, fresh and processed food, and home and personal care.
EMSUR further claims that the new range can be used as a packaging solution and recyclable alternative for food products that require BIO, Natural or Organic positionings.
In addition, the flexible packaging range will be available in transparent and printed film, with customers having the option of different varnishes, gloss, matte, or paper effects. The EM-Full RFlex range, it adds, is applicable to both rotogravure and flexographic printing.
The new range is also transferable worldwide to other plants in the EMSUR Group.
EMSUR says that its new flexible packaging range is part of its ongoing pledge to sustainability and reducing the environmental impact of its packaging, alongside its commitments to food preservation, availability, and safety.
Last year, EMSUR joined CEFLEX's initiative promoting a circular economy model in the flexible packaging industry, which includes plans for collecting, sorting, and reprocessing post-consumer flexible packaging throughout Europe.
EMSUR also unveiled a compostable barrier bag in January 2020, responding to the demand for a two or three-layer barrier bag that is reportedly of sustainable origin and offers compostable characteristics. This flexible packaging solution was specifically designed for the coffee market.