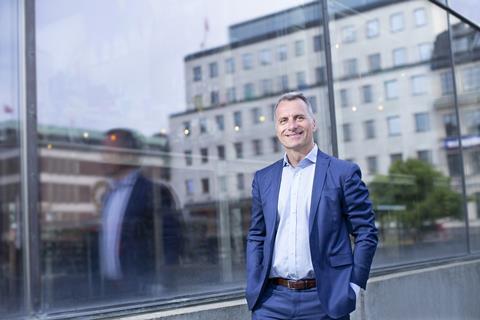 We recently got the opportunity to talk with Thomas Körmendi, the CEO of carton specialist Elopak, for the latest edition of our 'In Conversation With…' series. In a wide-ranging conversation, we discussed his views on the paper versus plastic debate, some of the biggest trends around this issue, and where the debate might ultimately end up.
The paper vs plastic debate has been ongoing for years now, with everyone having their own opinion. Indeed, each person seems to have a different perspective on the issue, and most can cite evidence and research that backs up their argument. Our first question is this: in 2023, where are we at with this issue? How is this issue trending?
At Elopak, we are confident that we are on the right side of history. Multiple Life Cycle Analysis (LCA) studies – the gold standard for environmental impact assessments – show that beverage cartons are more sustainable that plastic bottles. Indeed, a standard Elopak carton will have a 60% smaller carbon footprint than a PET bottle and a carton made with unbleached, brown board will have a 70% smaller carbon footprint.
Cartons are recyclable, and made almost entirely from wood: a naturally renewable resource that captures carbon dioxide during its lifecycle. Carton can also be folded up flat, making for easier and more efficient transportation.
What are some common trends and arguments that you see appearing frequently in this context?
One trend we are increasingly seeing is companies transitioning their products out of plastic bottles and into more sustainable options such as cartons. Currently we are receiving requests from both new and old customers to repackage their products into cartons.
This is not only occurring in the food and drink sector – where cartons have traditionally been popular – but also in markets such as hygiene and personal care products. Earlier this year, we partnered with oral hygiene company Luoro to launch the first mouthwash packaged in cartons. The Paperdent vegan, alcohol free mouthwash is now available at pharmacies and supermarkets across Germany and Austria.
From a functionality perspective, can you discuss your thoughts on the trade-offs between plastic and paper-based packaging? How do you think this aspect affects consumer perceptions and buying habits?
In terms of consumer convenience, plastic bottles and beverage cartons are almost identical. Both are suitable for fresh and aseptic products; both can be resealed with a screw-top cap; and both come in multiple sizes. One of the practical advantages with cartons over bottles though, is that they also come as an alternative without a screw cap. Our closure-free cartons is an even more sustainable choice as they have less plastic and lower carbon footprint compared to similar Pure-Pak® cartons with a closure.
Beverage cartons also have the advantage that they can be folded easily to ensure every drop of product is squeezed out of the carton.
This aspect, coupled with the admittedly ergonomic design of a hand-held plastic bottle, probably influences consumers into thinking of cartons as more suitable for the home and bottles as more appropriate in on-the-go settings. This is changing however, as evidenced by the popularity of products like Boxed Water Is Better, which is sold in handy 250ml and 500ml Elopak cartons.
Let's talk coatings – where are we at with barrier properties in the paper packaging space? What work still needs to be done in this area?
We're making great progress in terms of improving the sustainability of our carton barriers. Elopak already offers cartons made with bio-based polymer coatings derived from renewable feedstock.
Added to this, in 2022 we launched the Pure-Pak® eSense: our first aseptic carton made without an aluminium barrier. Instead, the new polymer-based barrier reduces the aseptic carton's carbon footprint by up to 50% and also simplifies the recycling process, allowing for a one operation separation of the paper fibres and polyolefin layers.
The plastic barrier is already a very small component of the carton and is vital in ensuring product integrity.
Where do you think the debate on packaging materials will end? In your view, what does an ideal end point look like?
The scale of plastic pollution is devastating, with plastic waste volume currently set to triple by 2060. Furthermore, emissions from plastic are predicted to make up 19% of the global greenhouse gas volume that would be allowed under a 1.5ºC model for global warming.
If we are to succeed in drastically reducing plastic pollution, we need to turn off the tap for plastic production. Cartons are a part of this solution.