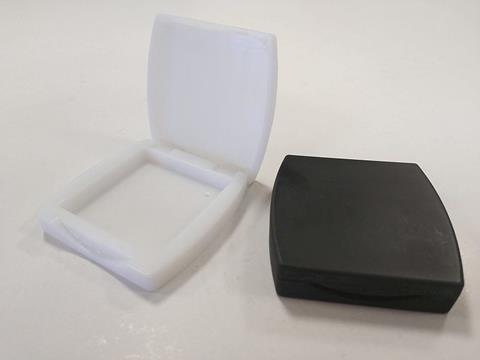 "Our clients are regularly asking us to re-design packaging to be more eco-friendly. The easiest way to do that is to reduce the material consumption of each and every part, for example by making the parts hollow to reduce energy consumption and plastic usage in processing for a more eco-friendly product. This is where 3D printing comes in. It allows us to test prototypes with thinner or hollow parts or lighter weight materials and make sure that the package still reflects the premium quality of the product inside," said James A. Kingswell Innovation Manager at Toly Group.
"With the 3D Systems ProJet MJP 2500, we can very accurately replicate what we are going to receive from the injection molding process. It also allows us to test mechanical features like hinges and click force before we invest in expensive metal molds that takes weeks to produce. The level of detail we are getting and the very smooth surface finish are unparalleled."
Development times for these high end packages have been significantly reduced at Toly. "By 3D printing our own prototypes in-house, we are saving months versus sending them to be CNC'd.Each CNC prototype could take up to 3 weeks. Multiply that times three to get three iterations. And the outsourced models cost 100 euros each to produce. To 3D print a model in-house costs about €25. Now we can 3D print prototypes overnight and test them the next day. We are producing 100 new product designs each year; we are quite literally saving 10,000s of euros annually with 3D printing.
"In terms of the customer, 3D printing has made us much more responsive. For example, if we present a package to a customer and they request a change to a hinge, we can redesign the hinge and produce a new one to show the customer the next day instead of it taking another few weeks. If the change is very tiny, like moving a clip .5mm, we can do that with the ProJet MJP 2500 for a fraction of the cost of outsourcing. That is even difficult to do with other 3D printing technologies like FDM because the change is so tiny.
And all this means that our clients can deliver their products to market that much faster."
More eco-friendly designs is just one example of the many ways 3D printing can positively impact packaging. Companies in a variety of industries, from Food & Beverage to Consumer Electronics, are discovering the advantages of using 3D printing to rethink the way products are experienced and manufactured.