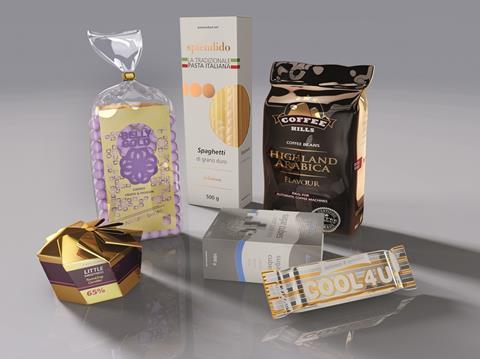 The new metallic offset printing inks of the METALSTAR FPG 712 series have especially been developed for the printing on food packaging (non-direct food contact).
METALSTAR FPG 712 inks stand out for their good storage stability and the solid running performance on the printing machine. In terms of shine and brilliance, the three gold colour shades and the shiny silver are comparable with mineral oil-based offset inks.
The "FPG" abbreviation in the name refers to ECKART's Food Packaging Grade products. They are produced in accordance with GMP (Good Manufacturing Practice) and are governed by particularly strict regulations. All ingredients are listed on Swiss Ordinance (SR 817.023.21).
A certificate of compliance detailing the use of inks for the printing on paper and board substrates - in indirect contact with foodstuffs - is available.
METALSTAR FPG 712 products are also suitable for other market segments with high regulatory requirements. Prior tests based on the specific application are recommended.
More info: