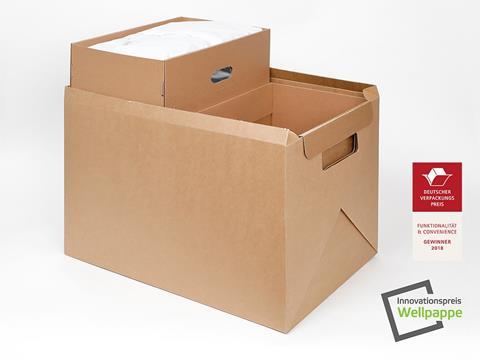 "THIMM COOLandFREEZE", the temperature-controlled packaging wins once again in this year's packaging competitions.
Both the jury from the German Packaging Prize and the jury from the Corrugated Cardboard Innovation Prize announced the e-commerce packaging as a winner. This packaging solution enables deep-frozen, refrigerated and non-refrigerated products to be shipped together in one combined delivery.
Martin Meinecke, Packaging Developer at Thimm is delighted with the two further awards for his design: "Back in March our packaging was awarded the iF Design Award. These further awards highlight the relevance of temperature-controlled packaging in the mail order shipping sector. Efficiency and product protection are extremely important when sending individual packages. The special feature in our e-commerce packaging is that it has been designed so that deep-frozen, refrigerated and non-refrigerated products can be shipped together in one combined delivery. Based on customer requirements we can insert up to three temperature zones using the modular inlays."
The innovative packaging with its PE-coated insulation blanket made from natural fibres by the company easy2cool protects the packaging from both internal and external moisture. Water-based cooling elements, also from easy2cool, as well as dry ice ensure the variable temperatures within the packaging. Together these control of the intensity and duration of the refrigeration and enable refrigerated products under 7 degrees Celsius and deep-frozen products up to -18 degrees Celsius to be transported in the packaging for up to 48 hours. The e-commerce packaging is particularly well suited for shipping food and medical products.
German Packaging Award
The German Packaging Institute has been awarding the annual prestigious German Packaging Award since 1963. The international competition is under the patronage of the Federal Ministry of Economics and Energy. It awards the most innovative packaging ideas on a cross-sector and cross-material basis. Out of the 226 solutions submitted, the jury selected the temperature-controlled e-commerce packaging as a winner in the "Functionality + Convenience" sector. The jury evaluated functionality, handling and design as well as usability, product protection and additional uses. The awards ceremony took place on 25 September in the NürnbergConvention Center during the FachPack exhibition.
Corrugated Cardboard Innovation Prize
The German Association of Corrugated Board Makers awards the Corrugated Cardboard Innovation Prize to innovative packaging which clearly demonstrates the capacity and efficiency of corrugated cardboard. The ten-member jury evaluated a total of 65 packaging designs in four different categories. In addition to the protective properties of the goods, the economic, ecological and sales promotional aspects of the packaging were also evaluated. The temperature-controlled packaging was a winner in the "E-Commerce Packaging" group securing third place. The awards ceremony took place on 26 September at the Corrugated Cardboard Forum, also at the FachPack exhibition in Nürnberg.