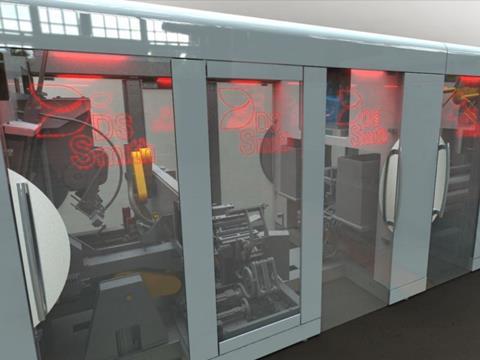 DS Smith Packaging Systems will premier its new Combi 150R machine at Interpack 2017.
The latest technology for end of line packaging machinery, the Combi 150R forms, packs and closes cases with a new robotic mandrel case former. The ground-breaking box forming technology enables flat cardboard die-cuts to be shaped around a mandrel in the shape of the box, resulting in uniquely formed boxes every time.
The new machine combines many of the latest packaging production technologies and offers numerous technical, financial and commercial advantages including significantly speeding up throughput times (producing 60 cases per minute) and reducing waste. It has the capability to produce boxes in innovative new shapes, such as cases with handles, eight faces or rounded edges and has improved performance in terms of strength and durability.
The Combi 150R is composed of three main modules: a mandrel case former infeed; a case filler entry packer infeed; and a top case sealer or top lid. By combining a robotic mandrel case former with a high speed robotic packer and a closing module in a compact line, the Combi 150R offers users versatility alongside high output rates.
The machine delivers cost savings by using higher case compression strength through precision forming and fluting integrity. Packaging weight can be reduced by up to 50 per cent by improving vertical compression resistance due to the mandrel forming, which guarantees perfect and consistent case squaring and reduces packaging variability. The exclusive centering technology also improves performance and lowers cost as it reduces breakages thanks to the perfect stability of the pallets.
In addition, the new packaging machine reduces cost in the supply chain by producing flat instead of folded blanks, which allows up to 25 per cent more blanks to fit on a pallet. It also improves box consistency, avoiding the problem of case over-sizing and enabling more cases to fit on a pallet. It reduces repacking costs as the flexibility of the mandrel case former allows customers to form multi-format, mono or multi-piece packaging with the same machine.
In terms of improving end of line packaging efficiency, the Combi 150R creates less waste and reduces down time, offering higher speeds and faster changeover. As the first box it produces perfectly matches the design, there is no need for fine tuning. It also ensures precise case forming, as well as improved top or side casing, top case sealing and palletisation. It can reduce repetitive strain injuries (RSI) and improve the working conditions of operators, thanks to its ergonomic design and excellent accessibility.
"The Combi 150R is doing something exciting, new and different in the packaging industry, with innovative features which deliver design excellence, accuracy and efficiency," said Gilles Deschamps, sales director at DS Smith Packaging Systems.
He continued: "New box shapes and easy Retail Ready Packaging (RRP) design formation create boxes which ensure products truly stand out on the shelf. It can produce open packs, large side windows and two-piece design, not to mention increased output speed and reductions in defects. We're proud to be introducing this to the industry at Interpack, and are keen to find out what attendees think of it."
The Combi 150R offers the following features and benefits, making it unique in the marketplace:
• Machine modularity
• Gluing from top to bottom with a single glue gun and integrated glue tank
• User friendly maintenance, including colour light coding for automatic diagnostics (saving time for the operator)
• The option to integrate inserters
• Full automatic settings for change over
• Lower blank loading height
• Less compressed air consumption
• Possibility of a double outfeed configuration
• Compact layout
• Line efficiency
• New robotic case former
• Only using high level branded components from well-known industry leaders
• Easy access and visibility within the line
More info: