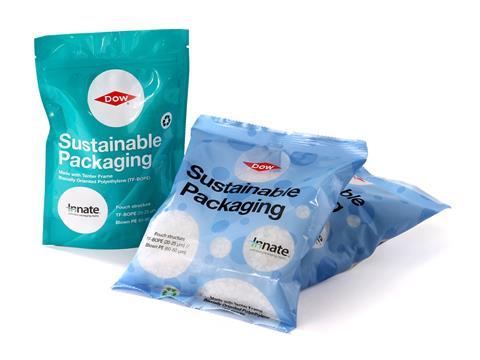 Dow Packaging and Specialty Plastics has introduced a new range of tenter frame, biaxially-oriented polyethylene (TF-BOPE) materials for linear low, medium, and high-density packaging films.
According to the company, these solutions enable customers to use printable, tough, stiff, and visually appealing BOPE films to produce resource-efficient, mono-material packaging that is designed for recyclability.
This offering has been developed through a joint value chain effort, combining Dow's INNATE TF80 technology with the production experience of Plastchim-T and Ticinoplast, both producers of PE and BOPP, and the processing knowledge of machine manufacturer Brückner Maschinenbau.
Dow's TF-BOPE-based solutions for oriented films are already commercially available in Asia-Pacific and are, Dow says, appreciated for their appearance, as well as their puncture and impact resistance. Applications range from downgauged frozen food films, to triplex laminates without BOPA, and duplex PE-based laminates used for home and personal care pre-made pouches.
"One main focus of our research work was to make BOPE a comprehensive offering and explore higher density spaces that would make this replacement viable and robust," said Karlheinz Hausmann, global technical fellow, Dow Packaging and Specialty Plastics.
"As a result, we have developed a unique blend approach that gives converters of BOPE the flexibility to tailor the film performance to the needs of their customers as effectively and economically as possible."
"BOPE is a breakthrough technology in flexible packaging, comparable to the launch of BOPP in the 1970's," said Paolo Rossi, managing director of Ticinoplast. "BOPE needs strong technical efforts for the complete industrialization, and thanks to the active engagement of all value chain members, the development and production of BOPE is growing.
"We have already seen its benefits including excellent sealability and mechanical characteristics which are comparable to optics and printability available in current films. The joint efforts of the participants in this BOPE development will lead to recyclable flexible packaging solutions as requested by all stakeholders in the market."
"For us, BOPE opens the door to a new generation of biaxially oriented films to meet market demand while enabling a closed life-cycle for plastic packaging," added Sebastian Ruhland, sales manager at Brückner Maschinenbau.
"All the key factors needed – processing know-how, machine design, and various BOPE film grades – have been developed collaboratively. Now printable and metallizable BOPE-HD based films with high stiffness, low shrinkage and high transparency are ready for the market."