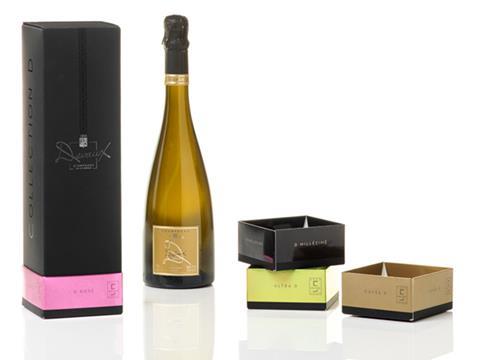 Van Genechten Packaging (VGP) has been awarded twice at the European Carton Excellence Awards this year.
Clever design and execution should work on many levels: logistics and efficiency, shelf-life, brand impact, printing and folding techniques, usability, function ànd sustainability. With environmental impact high on everyone's agenda, folding carton can be described as the perfect example of circular packaging: it's 100% renewable, recyclable and biodegradable.
Save the Planet Award: BalloonGrip™
For the second time in a row VGP has won the Save the Planet Award, this time with BalloonGrip™ for B-Loony, described as a fun and user-friendly balloon holder. The grip allows for a million brilliant printing options, since it is designed to be able to carry marketing and promotional messages.
Platinum Award: Champagne Devaux Cuvée "D"
For Champagne Devaux VGP has created a generic premium box that suits their entire varying range in the Cuvée collection. A small extra bottom element which easily locks onto the carton gives the box the unique premium upgrade it needed. More importantly, it makes the box easily adapt to its varying contents. The combination of soft touch varnish with glossy elements and micro structures creates the matching premium feel.
"Receiving these awards is the icing on the cake for everyone at VGP. Packaging today has to meet so many requirements and needs. So it's wonderful to see the hard work of our teams getting this kind of recognition by industry experts. And, better even, we are always happy to make our clients happy by thinking out of the box," says Dimitri de Somer, Director VGP.
Watch this space for a Packaging Europe video about Van Genechten's packaging solutions coming soon and find Van Genechten at FachPack 2019, 24-26/9 Hall 5 - 249.