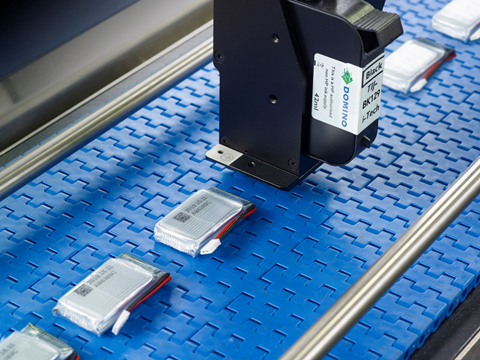 Uninterrupted production
Gx-Series printers are characterised by their ease of use, controlled via a modern, intuitive user interface and touch screen or remotely via a web browser. Customers can select from one to four print heads, which can be stitched together to allow for print heights of up to 50.8mm, or used separately to print on multiple lines at speeds of up to 300m/min. The maintenance-free print heads are equipped with LED status signals to show which cartridges need changing, while Domino AutoSwap enables cartridges to be changed while printing, without interrupting production.
Gx-Series print heads are available with a range of advanced coloured inks suitable for use on both porous and non-porous substrates to create long-lasting, high-contrast alphanumeric text, graphics and human- and machine-readable codes. Rapid dry times and good adhesion deliver optimum performance on fast-paced production lines. For food and beverage applications, EuPia and Swiss List compliant ink options are available for high-quality coding on direct contact food packaging. This includes flexible films, porous shelf-ready packaging, and shipping boxes.
Your trusted coding and marking partner for the 'factory of the future'
Looking ahead, Domino's innovative event space at Interpack 2021 will provide visitors with the opportunity to meet industry experts and explore topics such as: using automated coding solutions to reduce errors on product packaging; adopting late-stage label customisation to improve production efficiency; and partnering with Domino to meet packaging sustainability targets.
Utilising automated product coding solutions alongside code validation systems is the most effective way of ensuring that production lines are kept error-free. Domino's coding automation software, QuickDesign, can be integrated with existing ERP and MES systems to handle product message changeover and work in unison with external vision systems for message validation.
Bringing all elements of production together under one roof is the ultimate goal of smart manufacturing. Domino's options for late-stage customisation offer increased control over product identification and coding, allowing manufacturers to easily adapt to smaller batch sizes, tighter lead times, and changing packaging concepts. A range of options for late-stage customisation for compliance and traceability, information flexibility, and promotions management, will be on display at Domino's innovative event space at Interpack.
Alongside smart solutions, in order to remain competitive manufacturers also need to demonstrate commitments to sustainability, including waste reduction and sustainable packaging solutions. Attendees at Interpack are invited to chat one-on-one with experts in materials science at Domino's central sustainability 'hub', to discuss how to mitigate some of the risks involved in sustainable packaging design.
For more information on the Gx-Series and Domino's smart factory solutions, please visit the Domino website and make a note to visit us at interpack 2021.