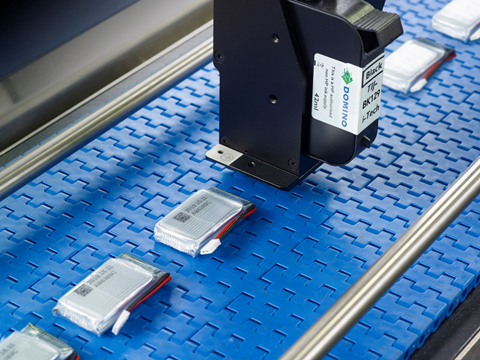 This spring, Domino Printing Sciences (Domino) is launching the Gx-Series, a new range of high-quality thermal inkjet (TIJ) printers optimised for fast, efficient, and accurate coding, on product labels, flexible films, and cartons. Part of its smart manufacturing, connected factory solution suite that Domino will be demonstrating at Interpack 2021, the Gx-Series will enable manufacturers in producing customised, on-demand, innovative products while ensuring that customer safety, compliance, and waste reduction remain top priorities.
"Today, more than ever, manufacturers need to be equipped to handle last minute changes to production schedules, including quick product changeovers, in order to satisfy consumer demand," says Alexandros Mountis, TIJ Product Manager at Domino. "The Gx-Series has been designed with this level of agility and ease of use in mind – to help manufacturers to keep pace with the pressures of a modern marketplace."
Domino developed the Gx-Series in consultation with customers across the globe, to ensure a solution that meets the needs of manufacturers now and in the future. The next-generation printers are compatible with all languages, and suitable for use across industries including pharmaceuticals, electronics, and food and beverage, with customisable options available to suit individual production needs.
Embrace the future of manufacturing
The Gx-Series is optimised for smart factory applications, providing manufacturers with a seamless, future-proof solution for evolving production processes. Gx-Series printers are easy to use and to integrate into existing manufacturing procedures, with enhanced connectivity and visibility features and a smaller overall footprint. Domino Cloud capability provides remote monitoring, while options for EtherCAT and PLC communications allow for fast data transfer and synchronisation.
"The Gx-Series utilises industry standards, which allows for integration into existing automation systems to provide a truly industry-4.0-ready coding and marking solution," says Mountis. "The option of EtherCAT communication allows our TIJ printers to communicate directly with programmable logic controllers to provide greater control of manufacturing processes, translating into increased productivity, and reduced coding errors."
Gain control of your product labelling
"In a modern marketplace, consumers, retailers, and governments are demanding more information from manufacturers," says Mountis. "We have developed the Gx-Series in response to these changes, to give our customers greater control over their product labelling, with the ability to produce high-quality, machine-readable codes for marketing information, traceability data, and serialisation."
Domino's Gx-Series printers are an ideal choice for printing high-density machine-readable codes, including Data Matrix codes, providing opportunities for enhanced product labelling and late stage customisation within manufacturing operations. Advanced track trace and item-level serialisation are available via Dynamark protocol, with coding in compliance with pharmaceutical regulations, including EU FMD and US DQSA, according to GS1 standards.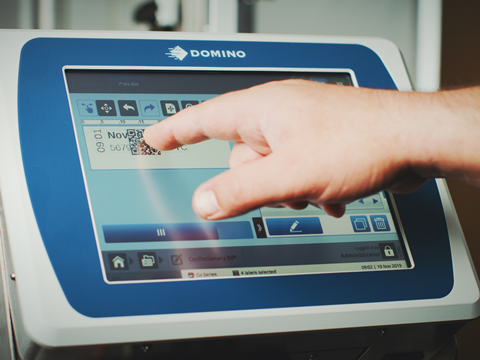 Uninterrupted production
Gx-Series printers are characterised by their ease of use, controlled via a modern, intuitive user interface and touch screen or remotely via a web browser. Customers can select from one to four print heads, which can be stitched together to allow for print heights of up to 50.8mm, or used separately to print on multiple lines at speeds of up to 300m/min. The maintenance-free print heads are equipped with LED status signals to show which cartridges need changing, while Domino AutoSwap enables cartridges to be changed while printing, without interrupting production.
Gx-Series print heads are available with a range of advanced coloured inks suitable for use on both porous and non-porous substrates to create long-lasting, high-contrast alphanumeric text, graphics and human- and machine-readable codes. Rapid dry times and good adhesion deliver optimum performance on fast-paced production lines. For food and beverage applications, EuPia and Swiss List compliant ink options are available for high-quality coding on direct contact food packaging. This includes flexible films, porous shelf-ready packaging, and shipping boxes.
Your trusted coding and marking partner for the 'factory of the future'
Looking ahead, Domino's innovative event space at Interpack 2021 will provide visitors with the opportunity to meet industry experts and explore topics such as: using automated coding solutions to reduce errors on product packaging; adopting late-stage label customisation to improve production efficiency; and partnering with Domino to meet packaging sustainability targets.
Utilising automated product coding solutions alongside code validation systems is the most effective way of ensuring that production lines are kept error-free. Domino's coding automation software, QuickDesign, can be integrated with existing ERP and MES systems to handle product message changeover and work in unison with external vision systems for message validation.
Bringing all elements of production together under one roof is the ultimate goal of smart manufacturing. Domino's options for late-stage customisation offer increased control over product identification and coding, allowing manufacturers to easily adapt to smaller batch sizes, tighter lead times, and changing packaging concepts. A range of options for late-stage customisation for compliance and traceability, information flexibility, and promotions management, will be on display at Domino's innovative event space at Interpack.
Alongside smart solutions, in order to remain competitive manufacturers also need to demonstrate commitments to sustainability, including waste reduction and sustainable packaging solutions. Attendees at Interpack are invited to chat one-on-one with experts in materials science at Domino's central sustainability 'hub', to discuss how to mitigate some of the risks involved in sustainable packaging design.
For more information on the Gx-Series and Domino's smart factory solutions, please visit the Domino website and make a note to visit us at interpack 2021.