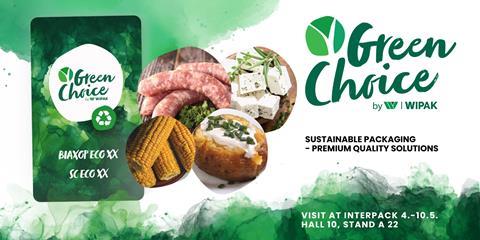 In the latest edition of our 'In Conversation With…' feature, we spoke with Wipak's Senior Marketing and Communications Specialist, Josefina Pönkkä, to unpack their views on how the evolution of regulation and consumer sentiment is affecting the flexible packaging sector.
How have changing regulations affected the flexible packaging industry?
The changes of regulations in packaging are mostly driven by environmental concerns over their impact in addition to safety reviews about the packaging materials, and companies must comply with these changes.
Other topics driven by regulation and consumer awareness is the aim to reduce plastic materials, design for recycling, re-fill solutions, etc. all with the aim of enabling a circular economy where materials are responsibly sourced, recycled and recovered back into production always aiming to reduce waste as much as possible throughout the entire process.
Nowadays there are strong guidelines urging to keep end-consumers well-informed so that they can take responsible purchasing decisions. The recyclability of the packaging must be considered as early as the design stage considering the user experience providing all the necessary information so that the packaging may be effectively sorted, collected, and recycled.
Countries following different approaches to these guidelines, makes it even more challenging, therefore we keep preparing ourselves to stay up to date on trends, regulations, and certifications.
For example, we make sure our renewable and recycled materials are from certified and traceable sources: all our paper materials are from responsibly managed forestry and our recycled materials are ISCC plus certified.
Consumers are becoming more environmentally conscious, and flexible packaging has come under fire for not being so easily recyclable. What effect did this have on the industry?
A ground basis to participate in Ceflex as stakeholder is to support a common approach on design for recycling guidelines that ensure effective recycling for flexible packaging. This connects directly to the previous point on consumers making informed decisions by having access to information that should be clearly displayed on the flexible packaging.
The flexible packaging industry works closely among the value chain partners to ensure flexible packaging is designed to meet with recycling requirements and that their formats and solutions are collected, sorted, and recycled across all EU countries.
What are the biggest sustainability challenges when it comes to developing flexible packaging?
The flexible packaging industry has continuously focused on reducing material consumption for decades. There are several challenges when trying to reduce plastic material for thinner and more lightweight packaging that also meets design for recycling guidelines. The ideal scenario is that there would be recycling infrastructure and technology that can effectively allow recycling of at least 80% of all flexible packaging, that's what we aim for in Ceflex.
As there are limitations and local guidelines on what can be classified as recyclable, our solutions must be designed for recycling from the start to be compatible with the waste streams. A common approach in designing for recycling in Europe would be possible with upcoming legislations, resulting in better aligned schemes.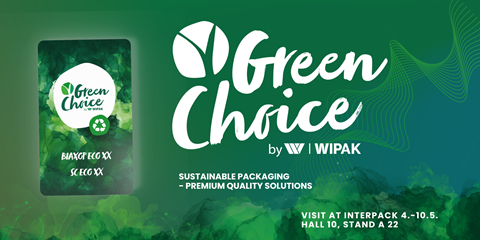 In 2019, Wipak committed to becoming the first climate-neutral flexible packaging company by 2025. How far along is the company now, at the halfway point of this journey?
Our main target to reach Company Carbon Neutrality by 2025 has not changed. We know our journey will not come to an end by this time but will be the strongest foundation to our never-ending pledge to reduce our emissions to the constant absolute minimum. We are thrilled to have reached the big milestone of becoming Operational Carbon Neutral by the end of last year.
Our operational carbon footprint describes all Scope 1 and 2 emissions in Wipak's authority. Those include all energy related emissions as well as further direct emissions (cooling mediums, burning of solvents (RTO)). All our production units are running on renewable electricity, and we have on-going energy-saving projects across all our sites.
One of the strongest pillars at Wipak has always been our focus on avoiding waste. During 2023, one of the key activities is the optimization of our internal recycling capabilities across all units. Some other carbon reduction projects include further investments to using bio solvents and transitioning to water-based inks and adhesives.
We believe in our strategy, and we keep on constantly preparing for the future. We are aware that there are some small unavoidable remaining emissions. These emissions are offset by founding certified carbon reduction projects to reach carbon neutrality.
Is GreenChoice by Wipak a pillar to this strategy?
Wipak is committed to becoming the most sustainable flexible packaging company, and we are on the right track to reducing our Company carbon emissions to zero by 2025.
We measure and report direct emissions caused by sources under Wipak's authority as well as indirect emissions from upstream and downstream activities from Scope 2 and 3 that are not in Wipak direct's control. Our infinite goal is to minimize emissions from all our company's activities to the strict minimum, including those related to our products.
However, the corresponding emissions to the use of the flexible packaging material produced by Wipak has a variety of options at every customer. Nevertheless, we are constantly developing and introducing innovative flexible solutions that comply with the market demand and the changing regulations, highlighted under our GreenChoice portfolio of flexible packaging solutions.
GreenChoice by Wipak is our pledge into actions by making the transition in favour of more sustainable flexible packaging as easy as possible. With GreenChoice, we offer solutions that are recyclable, from certified recycled or renewable feedstock. In our efforts to reduce carbon emissions, we use for example our WContribute software as a comparison tool for calculating the carbon footprint of various solutions to help the customer in making well-informed decisions.
The Wipak team will be present at Interpack in Hall 10, Stand A22 to help customers with any packaging related challenges and give advice on the latest sustainability insights and best practices.