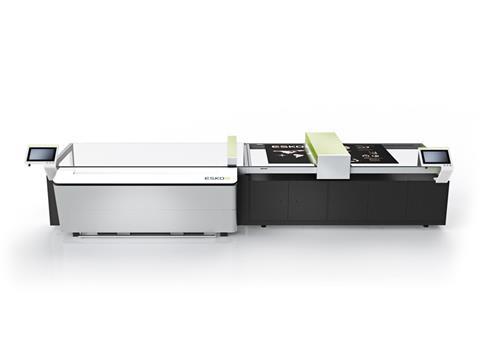 Opening potential
A lot of the current innovations in digital production revolve around workflow and finishing possibilities, as Mr Weymans points out.
"An interesting use for digital production techniques are applications requiring security features for different types of products. The driver in this case is very often the need for better brand protection. "With digital production, there are many possibilities to include security features ranging between unique tracking codes and even custom-made security toners for 100 per cent traceability," he explains.
Mr Harris says that there are some exciting press developments that address more types of packaging, in particular new presses for corrugated pre-print and post-print that address the complexities, quality limitations or high costs of conventional printing.
"We are seeing more combination printing, or the integration of digital and conventional print. This allow digital to be used for variable data along with conventional for what it does best such as special inks and metallic. We are also developing simple turnkey workflows like Esko's Automation Engine for Labels that enable printers to more effectively realise the benefits of short run digital printing. There is no point having a press that can handle 100 plus jobs per day, if the bottleneck is prepress or admin," he highlights.
Digital print offers many possibilities for future development, Mr Schaaf agrees. Integrating further processes, such as digital coating, digital embossing and die cutting will make the process chain grow further.
"An automated production line with a continuous flow could be created, without an interruption of manual work. Heidelberg supplies machines, front and back end management, software, pre-press and post press equipment. The future is not just an efficient machine, but the whole print shop working as being one single machine."
He is keen to highlight Heidelberg's recently launched Primefire 106, which offers customers new opportunities for digital print in folding carton production.
"Its innovative digital printing system combines the best of both worlds: The flexibility and versatility of digital printing, and the reliability and precision of the peak performance class in offset printing. This is made possible through cutting-edge drop-on-demand inkjet technology and Heidelberg's best in class sheet transport system. Primefire offers an ideal option for quality control: If a sheet and quality is not ok, it will be immediately detected, ejected reprinted on the fly – fully automated."
Innovations in traditional print
As a supplier of printing inks for a variety of conventional printing technologies as well as flexo printing plates Flint Group is at the forefront of innovation, as Dr Freudenthaler points out.
"Flexo printing is a very versatile packaging print technology, but compared to other conventional print technologies it is often said to be more complex in pre-press and lower in print quality than offset or gravure printing, so this is a focus for product development. With our flat top dot flexo printing plates nyloflex® FTF for flexible packaging, winner of the 2016 Flexographic Technical Innovation Award, and the recently launched nyloflex® FTC for corrugated post-print we now offer plates that can provide increased ink densities and improved ink laydown and in case of the nyloflex® FTC reduce the unwanted fluting effect in corrugated post-print."
With regards to food packaging, low migration technology is crucial. Most ink suppliers, including Flint Group, manufacture and sell inks which are safe for food packaging. Flint Group's ANCORA family of inks and coatings are tested and certified for label and flexible packaging applications," Dr Freudenthaler explains.
Most recent is the marriage of low migration with UV LED.
"Flint Group offers a UV LED ink system which is also safe for food packaging. EkoCure® ANCORA, the winner of the 2017 FTA Technical Innovation Award, is the latest technology for label and package printing. This technology coupled with traditional printing methods truly transcends the traditional boundaries of narrow web."
Mr Harris suggests that traditional print is responding to the digital challenge by becoming more agile for shorter print runs, which is making it more economically viable for short print runs.
"For example, extended gamut printing is a process that reduces or avoids ink changes on press, so greatly reducing make ready time and increasing equipment utilisation."
Platemaking is being simplified with enhancements such as integrated imaging and exposure for flexors as in Esko Crystal XPS. This reduces the manpower needed and opens the possibility to bring platemaking in house at the converter, reducing press make ready times.
Traditional printing methods still have an important role to play in the modern printing industry, as Mr Renschler agrees.
"At Heidelberg we are addressing the trend for shorter runs. We are adding new control technology to offset to make it even more efficient. Automation increases and for example the machine is driving the make ready process automatically. Flexibility in configuration is key to keep offset attractive for short and long runs by adding embellishing possibilities."
In conclusion, he explains the importance of quality for successful printing, embodied in latest product development:
"With the Speedmaster XL 106, we can deliver a zero-defect product. Faulty cartons can damage the brand image. It includes quality measurement and colour measurement devices, and full image checks are done while machine is operating. The machine will identify defects and eject bad sheets. This is especially important for the pharma market, where a box has to be prefect and no errors are allowed in critical areas like product name or dosage, catering for the trend for more and more inspection, not only for the printing press, but later in the process."