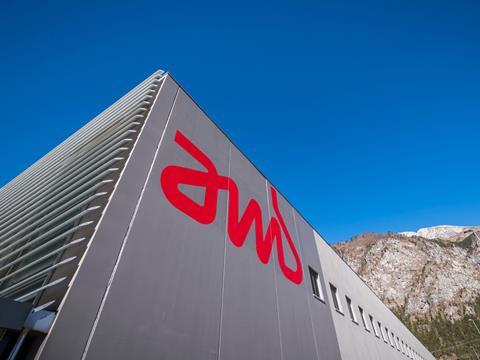 Just under a year ago, AMB SpA acquired TDX (Europe), a UK-based manufacturer of PET, rPET, and laminated rigid films for the food and packaging industry. It created a pan-European leader in the rigid and flexible plastics film and packaging market, and a one-stop-shop offering of products and services, from tooling and concept design to product specification, print design, and application.
AMB's chief executive Bruno Marin commented about the business and the plans for future growth:
"We started to see the results of the companies' synergies last September, with a real improvement in purchasing," said Marin. "Recycling is critical to our combined efforts, and we also deliver some semi-finished goods to TDX in the UK. Best practices started this January and we have learned a lot from each other."
Marin explained that TDX (Europe) met the budget for last year and this year the two companies are enjoying a strong exchange of ideas. "TDX brought their significant tooling and design capability to the table. We've also changed our sales network, as we were typically using agents or distributors, but now most of our sales are direct."
Alongside a shift in sales focus, Marin points to a change in the way customers are doing business. "It's about innovation now, rather than cost-cutting. AMB SpA was traditionally into extrusion technology and cost-efficiency, but we were missing the design element, until now. Two years ago, customer conversation was more about thinner films and downgauging. Now it's more about the design."
The merged entities have four sites across Europe plus a network of distribution warehouses and, at the time of the deal, a combined turnover in excess of €150 million ($164m). The plan, said Marin, is to retain the TDX name for tooling with AMB UK the name for the extrusion part of the business.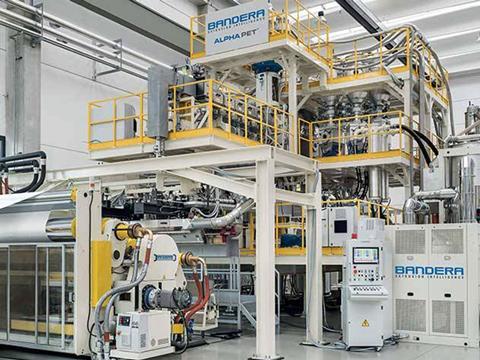 Although predominantly selling film into the thermoforming market in the past, with good sales into the Baltics and Scandinavia, later this month TDX's plant is set to install a new 10,000-tonne machine to service the form-fill-seal (FFS) market.
"There's a shift in the UK from PVC to PET and we can also ship volumes from Italy."
The company has invested £3.5 million ($4.3m) in a new line in Newcastle, UK, and €7m ($7.6m) in its Amaro site in Italy, where the factory houses a large extrusion line, along with strong logistics and slitting capabilities.
The next step, Marin says, is to grow organically, but he doesn't rule out further acquisitions.
"We are looking at Iberia and southern France, but no acquisition is likely to be easy. We're also considering greenfields, but there is no supermarket of answers out there. The next step is to find the right target. Eastern Europe is maybe another option, and the US is interesting for us," he explained. "It will probably be a similar business to us, with some adjacent markets, and more towards the converting area. Thermoforming is already a decent market for us, and one that we know well, so it'll likely be in the flexibles arena."
When it comes to the circular economy and recycling, Marin is already happy with what his company is doing in this regard, and he calls rigid packaging a winning choice in that respect.
"We recycle about 13 million bottles a day between our two sites in Italy," he stated. "The challenge is the sourcing, and it's all about the technology and the cleaning process. Regulations are very strict, and food safety is paramount. In rigid plastics, we are seeing a leveraging of mono-materials."
He added that Italy collects post-consumer trays. Overall, demand for post-consumer flake was likely to become so high that it will present challenges. Collections, he said, will need to improve.
"Italy is considering reverse vending to increase the quantity and quality of material, although the quality of bottle-to-bottle pellets is already improving and companies are willing to pay a premium," Marin noted, adding: "A lot of companies in the UK are claiming 100 % rPET."
In the flexibles sector, AMB's capacity for films of up to nine layers enables the company to run structures that are extremely thin and can be "disassembled easily". He pointed to the small volumes currently for mono-materials and biomaterials such as PLA and Ecovio.
"We're focusing on food safety, which is increasingly taken for granted these days," he said. "Polyester can easily have several lives and it's not a problem if the material goes milky after a few cycles. Food remains a core business for us, but we are looking at other markets too."
Having celebrated its fiftieth anniversary last year, AMB SpA is now looking at a future that sees it become a pan-European supplier with a US footprint and a targeted turnover of €200m ($218m) by 2021.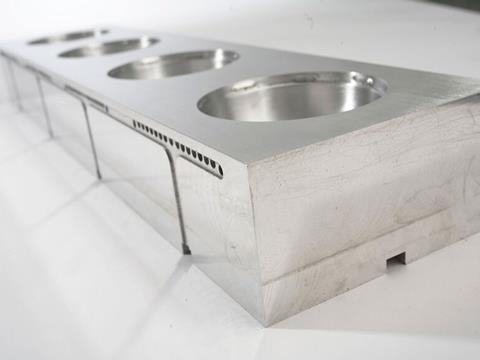 "We will leverage design and prototyping to become a real end-to-end supplier," he predicted. "And we feel the responsibility of running a sustainable business. Our dairy partners are moving away from PS, which is the next big transition to PET after PVC. Massive investments will be needed here."
In the context of sustainability, AMB also uses water-based inks in the production of its flexible packaging. According to Marin, it took the company a couple of years to develop the necessary technology, but it has since reduced the company's carbon footprint. Unsurprisingly, he said, drying is more difficult with water-based, rather than solvent-based, inks; but the print quality is "great".
"It's more expensive but we're on the verge of a second investment in printing presses," he confirmed. "We supply a lot of base web for skin packaging on fish and meat. Skin packaging has been around forever, but it's enjoying a kind of second wind. Bottom film is our focus, and skin packaging volumes are still much lower than modified-atmosphere packaging."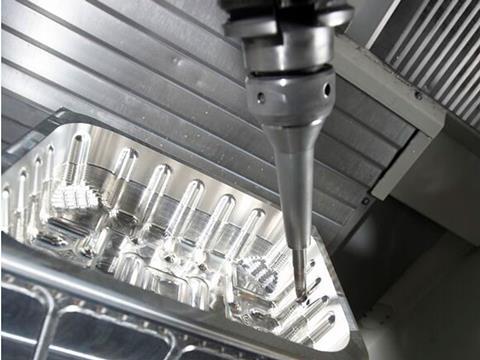 Marin added: "Skin packaging is great for fish and meat but less appropriate for small products."
AMB serves other, less obvious, markets. "We are indirect suppliers to the pet food industry," he said. "This is an extremely advanced sector with high levels of print quality and, for example, soft-touch finishes that you don't see so much in human-food applications. There is so much technology behind the scenes, and people always want to see what's new."
More information from AMB SpA, Via S. Martino, 28, 33038 San Daniele del Friuli, UD, Italy. Tel: 39 0432 946 111. Web: Ambpackaging.com
The view from Italy
"Digital printing has width and quantity limits, so although it's good for small quantities, flexo has really improved, too," said Luca Vacchiano, site director, during a tour of the San Daniele del Friuli plant.
About 40km away is the company's newer plant in Amaro, which specialises in cast film and slitting. Here, about 20% of output goes to thermoformers while the rest is sold to food producers.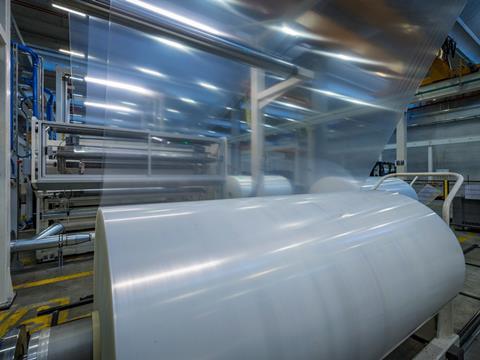 "We produce 500 to 600 pallets a day here," explained Vacchiano. "Our finished product warehouse was previously a retailer's warehouse, hence the 25,000 Euro pallets on shelves."
The factory's newest Bandera extrusion line produces three tonnes an hour, while additional equipment from J Kampf slits the films, and Bonfanti equipment lifts the rolls, which can weigh about 2.5 tonnes. The bigger rolls are produced on the larger machines and go to thermoformers.
"We output about 200 tonnes a day across our entire production here and all under Lean Management principles," said Vacchiano. "Our staff are all trained in the principles. We say that whoever produces the best and most efficient gets free pizza forever!"
One key aspect of the newer factory has been its ability to reduce energy costs. It utilises about 1 gigawatt of solar power, while the new Bandera lines are extremely energy-efficient.
"It probably takes about 0.8kW of energy to produce PET at San Daniele del Friuli but about 0.6kW here in Amaro."
Meeting unprecedented demand
As a producer of high-barrier materials for packaging and preserving food, AMB is playing a crucial role during the international shutdown caused by the coronavirus. The company's films allow the food industry to meet high levels of demand by keeping food on the shelves longer.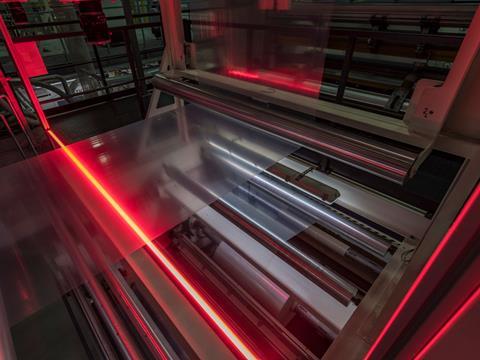 Chief operating officer Giles Peacock said: "In recent weeks, a large number of our customers have contacted us looking for reassurance because they need AMB to carry on manufacturing right now. The orders are rapidly increasing and we have to show to our customers that we are ready to face this difficult moment without any 'fragility'. Almost six weeks ago, we set up a supervisory group to deal with the situation, whose focus has been the management of customer concern and the implementation of emergency risk policies through the business."
The company serves customers from four facilities, two in the UK and two in Italy, all of them in continuous operation.