Wladimir Moraes, global market manager at Bostik, and Fabrizio Di Gregorio, technical director of Plastic Recyclers Europe and head of RecyClass, discuss the importance of high-quality recycling to achieve circularity and the role adhesives can play.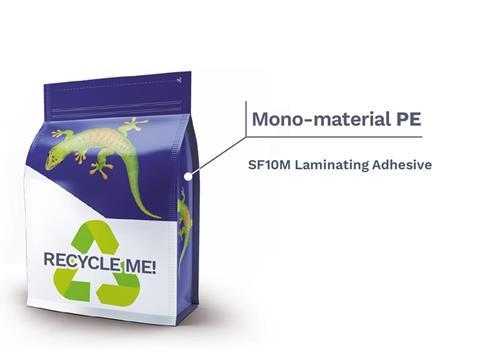 The plastic value chain initiative RecyClass has recently published a design book to support the plastics industry to design recyclable packaging, highlighting the importance of using proven technology and materials for designing truly circular packaging. Adhesives expert Bostik contributes to these efforts by providing proven bonding solutions. Wladimir Moraes, global market manager at Bostik, and Fabrizio Di Gregorio, technical director of Plastic Recyclers Europe and head of RecyClass, discuss the importance of high-quality recycling to achieve circularity and the role adhesives can play.
Listen to the full-length podcast version of this article here.
Sustainability challenges
By 2030, all plastic packaging should be designed to be recyclable or reusable as part of the EU's plastic strategy. Designing packaging to allow recyclability and including recycled content, therefore, is key.
Fabrizio Di Gregorio points out that assessing packaging for recyclability in Europe is challenging due to the multiple guidelines and methodologies of different local authorities and institutions. RecyClass sets out to tackle this challenge.
"RecyClass with its pan-European approach has created a scientific based environmen t to assess plastic packaging recyclability in a standard and reliable way all across Europe, with the ultimate goal to improve the quality and the quantity of recycled plastic offered to the market to replace virgin plastic in high-value application, such as packaging."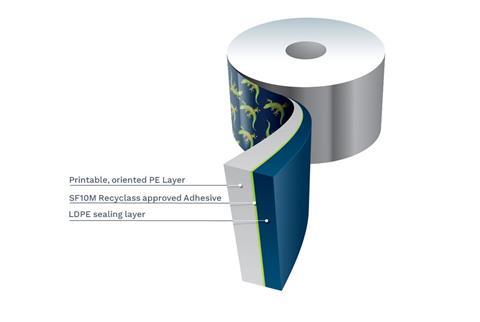 Wladimir Moraes points out that for decades, packaging structures and materials have been optimized to maximize safety, performance, cost effectiveness and convenience. This is achieved with multilayer composites made of different polymers, aluminum foil or metallization, paper, adhesives, inks, coatings.
"One big challenge today is to preserve these gains in food protection, performance, consumer safety and convenience, while still allowing industrial recycling that yields high-quality recyclates. This requires strong R&D and is driving innovation and investments in the whole industry. Bostik is highly committed to creating sustainable bonding solutions."
The RecyClass Design Book
RecyClass's design book is the result of three years of work within the RecyClass community,
where brands, retailers, converters and raw material producers working with recyclers have developed, used and updated testing protocols by testing more than 100 packaging technologies to offer the whole industry fact-based design for recycling guidelines with robust recommendations when it comes to the compatibility of substances and technologies with plastic recycling.
"It creates a unique set of guidelines and protocols for the whole European market instead of fragmented recommendations for the local market. RecyClass Design Book gives clear and scientific-based recommendations to packaging designers and scientists and will boost the transition from a linear to a circular economy for plastics. More tests are ongoing to better clarify some grey areas in terms of design for recycling, like printing inks, adhesives for labels or laminating adhesives. Bostik's work to advance innovative solutions to balance function with recyclability has been invaluable," says Mr. Di Gregorio.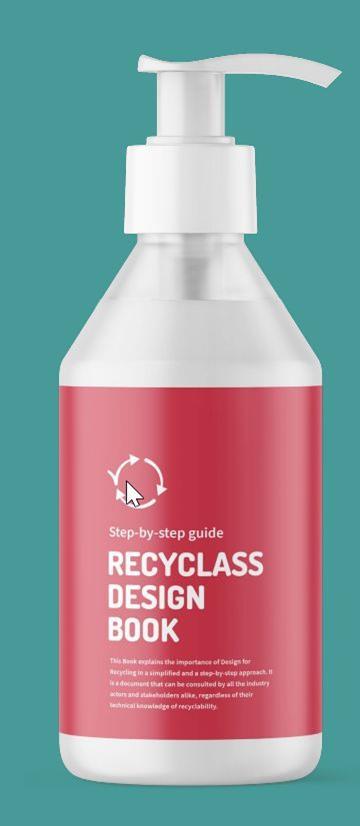 Recyclable adhesive solutions
At the end of 2020 Bostik gained RecyClass approval for two packaging adhesives including its SF10M laminating adhesive. The company set out to gain this approval to enable high-quality recycling.
"We wanted our solutions to be proven and our claims backed by relevant and accepted testing protocols and reputable organizations. Therefore we decided to join RecyClass and to submit our adhesives for formal approval," adds Mr. Moraes.
"We were the first to have selected adhesives for approval. As we had no prior reference, the challenge was to design adhesives that perform as required and also go through the entire PE films recycling process without depleting the quality of the recyclate."
Like other members, Bostik actively brings expertise and ideas to the organization to help advancing mechanical recycling for packaging, crafting the design guidelines, and assessing new packaging and technologies, among others.
"We are particularly active in working groups such as adhesives, sealants and inks. However, everything is connected so we also share ideas about substrates, barriers, etc. RecyClass is a whole-value chain platform," says Mr. Moraes.
Adhesives for circular packaging
RecyClass developed Recyclability Evaluation Protocols to test and check to generate reliable and robust data when assessing adhesives for recyclability.
"The chemistry and the concentration of laminates in packaging are vital to make it compatible with recycling. We learnt that companies such as Bostik can tailor make the laminate chemistry to make it compatible with the recycling process and ensure that there is no, or only negligible impact on the quality of the recycled plastics," says Mr. Di Gregorio.
The right choice of adhesive and laminate is key to obtaining high-quality recycled plastics, and the industry should work on products and technologies to fit recycling streams, generating maximum quality and creating a circular economy for packaging.
"This has been the vision behind the development of the SF10M laminating adhesive. We're transitioning our portfolio into high-performing circular and low-emission products assessed by LCAs. R&D and collaboration throughout the value chain is key. We have exciting innovations in the pipeline and have no doubt that the whole industry will evolve towards strongly minimizing the environmental impact of packaging," concludes Mr. Moraes.