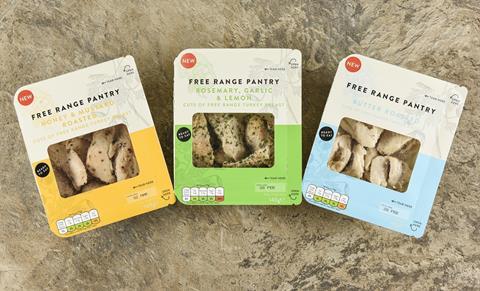 Dalehead Foods, a division of Tulip Ltd, has introduced paper board packaging to the fresh protein market for the first time. The ground breaking packs, which stand out on shelf, are now available on three new ready to eat turkey meats in Waitrose stores nationwide.
The new eco-friendly format is the first of its kind in the fresh protein market. Inspired by the card packs used in the sandwich market, the packaging stands out on shelf with full printing on all sides – vital in a category that typically allows for little differentiation on shelf.
The innovative packaging, which carries the 'widely recycled' logo, is made from sustainable raw materials. It is used on three of Waitrose's brand new products: Rosemary, Lemon & Garlic Free Range Turkey Breast, Honey & Mustard Free-Range Turkey Breast and Butter Roasted Free Range Turkey Breast.
Matt Richards, Group Innovation Manager, Tulip Ltd, said: "At a time when shoppers are more conscious than ever before about the ecological footprint of their purchases and supermarkets are looking to improve the environmental impact of their packaging, the launch is very timely.
"It was a challenge to take the board packaging used for sandwiches and make it fit for purpose for longer shelf life goods, but by working collaboratively with packaging supplier, Rapid Action Packaging (RAP) and equipment supplier Proseal, as well as Waitrose, we've managed to create a top quality solution."
Not only is the packaging made from sustainable materials, it maintains shelf life, eye catching designs, and is consumer friendly, with easy open functionality and a window for visibility.
Michelle Slade, Poultry Buyer for Waitrose, said: "It's been brilliant to work with Dalehead Foods to bring these new products and packaging to our shops. With a premium look and feel, these recyclable packs are the ideal way to launch the first cooked turkey meats with real herbs and seasoning to the market. We're sure people will love the taste and appreciate the environmentally friendly nature of the packaging."
The new format took three years to develop as part of Tulip's packaging strategy, which works towards developing solutions to deliver consumer convenience, freshness and on-shelf product differentiation, as well as tackling food waste and incorporating recyclable materials.
Richards concludes: "It's exciting to see the products on shelf after months of factory tests and consumer trials. This packaging provides great opportunity to deliver better aesthetics and stand out on shelf, while being mindful of the environmental impact. This remains a continued focus of Dalehead Foods and Tulip Ltd."