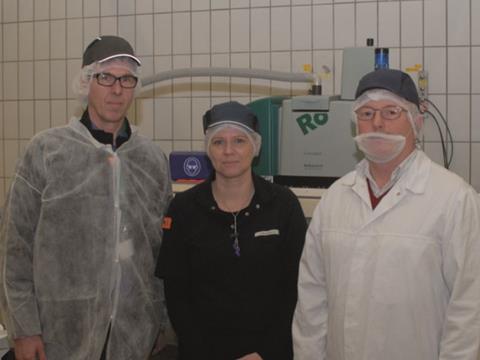 DE-VAU-GE Gesundkostwerk GmbH replaced its entire machinery pool of hot melt adhesive application devices in Lüneburg.
The new devices should feature modern technology with less glue and energy consumption, automatic granulate feed as well as minimized maintenance and operating costs. The solution comprises Robatech devices of the Concept series with RobaFeed and a RobaPlus agreement.
North German DE-VAU-GE Gesundkostwerk GmbH is a large European manufacturer of crunchy cereals and a diverse range of bars. In addition to its headquarters in Lüneburg, the company operates a second plant in Tangermünde near Stendal. Both plants are equipped with modern production systems. «In Lüneburg, we used a whole series of older devices from different system manufacturers to bond trays and outer packaging,», says Burghard Tiede, Sales Manager Technology at DE-VAU-GE. «In particular, the variety of devices from six product generations always meant a disproportionately high effort fort our technical personnel. Thus, we decided at the beginning of 2014 to clean up our technical equipment. In addition to improving and modernizing the technology, we also wanted to standardize the machinery pool to simplify the technical support,» adds Janine Brügmann, Technology Manager at DE-VAU-GE.
Within the scope of evaluation for replacing the entire hot melt adhesive device pool in Lüneburg, Martin Bürger, Sales Representative of the German subsidiary Robatech GmbH with headquarters in Bad Camberg near Frankfurt am Main, presented the solution of the Swiss specialist for adhesive application systems Robatech AG. The first test system from Robatech was installed in October 2014 and tested intensively for nine months. A solution offered by Nordson as well as a combined offer with Nordson devices and Henkel adhesive were tested at the same time. In June 2015, DE-VAU-GE decided to convert the entire production in Lüneburg to devices made by Robatech via a leasing agreement of the RobaPlus program.
«The Robatech Field Service always provided excellent support during the test phase and we were always heading together into the right direction. The 64-month leasing solution is an optimum solution for us from a business point of view,», explains Tiede. Janine Brügmann emphasizes that the Robatech devices fully meet the expectations of DE-VAU-GE with respect to reduced glue and energy consumption as well as automatic granulate feed. «Using Robatech devices, we could not only save costs, but also massively improve our quality, noticeably reduce complaints, and significantly increase product safety. Subsequently, we consequently replaced all legacy devices. Finally, the devices ideally fit our concept of lean technology and enable much simpler and faster maintenance by our technicians.»
The Robatech devices are used for trays and outer packaging of cereal boxes. Erectors provide the cardboard packaging. The Robatech application devices apply hot melt adhesive to bottom and side panels and the cardboard body is bonded. Next, the bagged product is filled into the cardboard packaging, which is then completely closed using Robatech hot melt adhesive application devices. Robatech Concept A5 devices with 6 heated hoses and Concept B5 devices with 4 heated hoses as well as SX Diamond heads are used, all with automatic RobaFeed2 filling system with slider. In the production process at DE-VAU-GE, there are either four or six heads mounted to the erectors. The carton sealers feature between two and four heads. Application is mostly intermittent in small beads. From-top-to-bottom, from bottom-to-top, and side application variants are used. Depending on the cartoning equipment, a speed between 20 and 60 packagings per minute is reached. DE-VAU-GE utilizes the devices 24 hours on six days per week.
«We equipped all packaging machines with Robatech devices and are very satisfied with the preparation, implementation, and operation of the systems. Since the replacement, we have significantly less production malfunctions, require hardly any spare parts, and can reduce glue consumption noticeably. As – thanks to the device concept – little glue must be continuously heated, the systems require less space and our energy consumption could be reduced by at least 30 percent. This is important, as energy management questions are increasingly gaining importance in corporate policy,» says Burghard Tiede. Finally, Robatech devices also offer clear advantages regarding accident protection as well as maintenance simplification and spare part replacement: «This significantly simplifies the work of our machine operators. Furthermore, we did not use automatic filling before. All devices had to be always manually refilled. Robatech's automatic filling systems are much easier and safer. Thanks to replaceable spare parts of the standardized Concept system type, we were able to reduce our spare parts storage,» adds Janine Brügmann to the positive experiences with Robatech technology.
DE-VAU-GE is also highly satisfied with the collaboration with Robatech: «Robatech' sales representative Martin Bürger never acted as mere sales person. He gained a high level of technical expertise and practical experiences while working in the packaging industry. Thanks to his long-term experience in automation and operations management in a packaging plant, we speak the same language and could develop many joint improvement ideas,» summarizes Burghard Tiede the course of the project. «We addressed all problems and found Robatech to be a listening partner with a solution approach. We would order again from Robatech immediately and also sign the same agreement again. The RobaPlus solutions offers maintenance with capped flat fees and fixed spare part prices, and thus, a reliable cost estimate for our budgeting.» The currently valid leasing agreement can be extended at any time beyond the current 33 Robatech hot melt adhesive application systems and DE-VAU-GE can freely decide about the future after expiration of the leasing period.
In the previous year, the company's output reached approx. 70,000 tons with a sale revenue approx. 170 million Euro. «We continuously expanded in the last decades in line with the expansion of discount stores in Germany. Besides that, we mainly deliver to Great Britain, Switzerland, Austria, the Benelux region, as well as to the US and Australia,», says General Manager Jürgen Ridder. «In the next years, we would like to modernize our location in Tangermünde. Based on our positive experiences, Robatech will surely be our number one during evaluation,» says Ridder when asked for an outlook into the future.
More info: