On the face of it, the idea of using sheep's wool to insulate food and pharmaceutical packaging might seem slightly far-fetched. However, since 2008, a UK-based start-up has been producing wool-based temperature-controlled packaging that it claims can outperform conventional alternatives, and clients such as Unilever, John Lewis, and Innocent Drinks seem to agree.
Fin Slater spoke with the company's managing director, Josie Morris, about what makes this innovative approach to temperature-controlled packaging stand out.
Could you give us an overview of Woolcool and its flagship products?
In a nutshell, we produce insulated packaging using sheep's wool. To give you a bit of background on our company, our CEO and Founder, Angela, was working on a project around the time of the foot-and-mouth disease when a lot of farmers in the UK were losing their livelihoods. The project was aiming to find ways in which farmers could get more value out of their farms. One of the things this initiative settled on was helping farmers to send products direct to consumer via post.
The challenge here was transporting this produce without using polystyrene, which went against the ethos of the whole project. Bear in mind that, for 40 or 50 years before this, polystyrene has been the only realistic option for the transportation of food, unless you used a temperature-controlled vehicle. So, she went away and trialed lots of different materials until she had a "eureka moment" and settled on wool, before creating a prototype. To trial the prototype, Angela tested its performance against EPS and polystyrene boxes and found that the Woolcool outperformed the other two like-for-like.
Since then, we've grown with the online food market. Around 2013 we got around £500,000 of funding from the UK government to invest in the research and development areas of our business. We did this because we recognised that there was a need within the pharmaceutical market, and we needed to back our product up with science in order to enter that market.
In practical terms, if a customer of a food-delivery provider were to get some Woolcool packaging and rip it apart, what would they find your packaging is made of?
You would get an outer cardboard box and then you'd get a slab of Woolcool covered in either an MDPE or LDPE plastic protective bag. This makes our bags food-safe and also helps with customer perception, as people were worried about having wool directly touching food. It also allows our packaging to be reused – which a number of our customers do.
Can you dig into what makes wool such a suitable material for the purpose that Woolcool uses it for?
Think about sheep – they've been around since roughly 9000 BC. They've survived since then because their outer fleece helps them survive whatever the climate. If you look at wool under a microscope, it has scales that capture moisture and help it to insulate. Temperature control is about heat transfer, and wool slows the transfer of air from hot to cold. And not only does the wool slow air, but it also traps it within the fibres in some cases, which creates an air barrier.
How does Woolcool compare with more conventional methods of temperature-controlled packaging in terms of things like cost and performance?
We try not to directly compare ourselves because people think you're niche if you become the alternative. In a like-for-like comparison, we're competitive on price now – we've spent a lot of time on making this happen. That being said, we're not going to be the same price as a 20p polybox – nothing can match that price. We're keen to show that sustainability doesn't mean that we have to sacrifice affordability or performance and that it's important to use the right material for the right application. Polyboxes might work for some people, and we'd never push them to use Woolcool.
We originally wanted to sell on performance first, and then sustainability became an added benefit. Since environmental issues have come to the forefront in the last two years, we've definitely seen a shift in mentality, with sustainability becoming much more important to customers.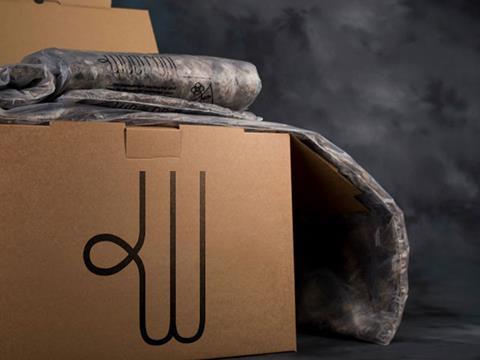 You've talked about Woolcool being a sustainable product – what does this mean in real terms?
We're a B-Corp, so all of our sustainability claims have been rigorously audited. From a product point of view, wool is biodegradable and compostable – if you put it in your soil it will have disappeared in six months' time. Our plastic outers are also widely recycled – it's a really simple plastic and, if put into the right chain, it can be turned into bin bags.
The product is also reusable. We launched a reuse scheme in May last year that allows our customers to send their Woolcools back to us. Once they've sent them back to us, we put the plastic into a channel where it is made into bin bags, and the wool itself gets washed, scoured and turned into more Woolcool. The idea here is that we have a closed-loop, and this is costing us money from our marketing budget. We hope this system becomes cost-neutral once more customers start to send their packs back to us.
From a company point of view, we believe that sustainability has a social aspect too. So, when we make board-level decisions, we'll look at both the social and environmental costs.
While we're on the subject of ethics, everyone is well aware of the cruelty inherent in the fur industry. Some critics have argued that the wool industry is, in a lot of ways, no better. Is there anything that Woolcool does to ensure that the wool used in its packaging is ethically sourced?
The type of wool we use comes from the meat industry, and where you see intensive wool farming is when sheep are kept for merino wool and textiles. Ultimately, you can't not shear a sheep – the RSPCA tells us that most sheep will die if they aren't sheered.
We use and have created a market for low-grade British-European wool, which would otherwise usually be thrown away or turned into a very low-value product. There are certain countries we don't source from because of their animal welfare standards, and we look to use our position to let the industry know that we have high standards in this regard.
What it comes down to is would consumers rather make use of a sustainable, abundant material that has come from a live sheep or a polybox that could end up in the sea?
Obviously COVID-19 is affecting businesses of all size. How is it impacting the work that Woolcool does?
My biggest concern is for the people that are high-risk. From a company point of view, we're constantly giving our staff updates and listening to any concerns they might have. Otherwise, with online food orders being in high demand, we've seen a peak in orders which means that we've been impacted in terms of production, although we've made contingency plans to manage this uptick.