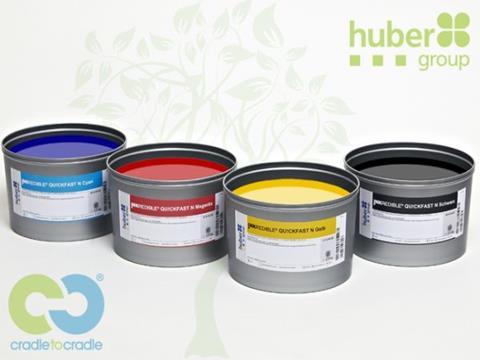 After hubergroup already launched an extensive Cradle to Cradle Bronze-certified sheetfed-offset range in May 2017, this global printing-inks player is now taking its new portfolio for the food packaging segment to market under the name "hubergroup Eco-Offset Inks Premium Plus".
And this range boasts Cradle to Cradle Silver status to boot! It comprises low-migration and low-odour sheetfed offset inks and coatings for conventional offset food packaging printing, as well as inks and coatings suitable for the manufacture of toys.
Thinking in closed cycles The Cradle to Cradle certificate assesses and verifies how safe a product is for people and the environment. The technical and biological recyclability of the product and the sustainable and environmentally responsible behaviour of the manufacturer together form an overall concept. Chemical substances are tested with regard to their conformity with an exclusion list, and permissible substances are evaluated in the context of the standard manufacturing, finishing, recovery and recycling processes, through to waste disposal. This includes processes that are utilised in countries other than highly efficient industrial nations. Moreover, the respective manufacturer is examined with respect to their in-house, climate-neutral energy and sustainable water and waste management systems, as well as how successful their corporate social responsibility policy is seen in innovative social projects. The goal of this concept is to achieve the ecologically perfect product that, once it is no longer in use, is broken down to its individual components or raw materials, which in turn can be put to use in new products – thereby eliminating all waste.
Safety for people and the environment "Safety first is hubergroup's credo when it comes to food packaging inks", says Bernd Groh, the company's Head of Product Management Commercial Sheetfed Europe. "Food packaging that is printed with our low-migration inks complies with all regulatory requirements and also those laid down by brand owners; no unevaluated ink constituents migrate to the package contents. These MGA inks and matching MGA overprint coatings now also possess Cradle to Cradle Silver status. In achieving this status,hubergroup has extended the applicability of the phrase Safety first to the environment, too. Printing ink is no longer just a functional material used to enhance the attractiveness and visual impact of safe packagings and to make information visible and readable; it now also helps ensure that these packagings can become a valuable raw material in the biological or technical cycle."
More info: