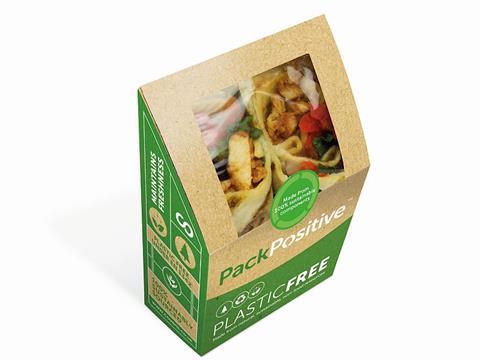 Following the recent announcement of its Pack Positive™ sustainability strategy, which targets packaging reduction, recyclability and supply-chain waste in line with UK Plastics Pact targets, Coveris is set to launch four new formats to address these issues at next month's Lunch show.
Bringing together the entire food-to-go industry under one-roof, Excel's Lunch show features product and packaging innovations, trends and insights. Coveris will unveil a range of new sustainable formats to address the growing demand for improved recyclability and disposal within the sector.
Plastic-free sandwich and wrap packs: Providing a plastic-free alternative to current non-degradable OPP lined packs, the new range replaces the film liner component with a cellulose-derived substitute, in combination with FSC/PEFC board. Delivering a 100% sustainably sourced, renewable pack format, the plastic-free alternative matches existing performance with a life-for-like Freshlife® P+3 shelf-life in heat-sealed formats. Widely recyclable and with a compostable film liner (EN13432), packs break down significantly quicker than OPP alternatives to offer a more circular packaging solution in line with UK Plastic Pact commitments.
RecyclaPEel™ sandwich and wrap packs: Coveris' exclusive RecyclaPEel™ formats are designed for consumers to separate individual board and film components before disposal to enable a more recyclable solution, when correctly channelled. Using patented peel-away technology, the pack allows for easy removal of the laminated components. The separation of materials means that over 90% of pack weight is now fully recyclable within existing infrastructure, working towards 100% recyclability as PE waste streams evolve. As with the plasticfree version, RecyclaPEel™ also maintains life-for-like Freshlife® P+3 shelf-life and is manufactured from FSC/PEFC board.
Rightweight sandwich and wrap packs: Technically engineered to deliver like-for-like protection, freshness and process efficiencies, Coveris' Rightweight range simply offers a next generation sandwich and wrap solution that reduces overall weight by 10% through material optimisation. Widely recyclable under OPRL, the FSC/PEFC board can also be used in combination with cellulose film for lighter, more sustainable format.
Hybrid Cup: Delivering a 70% reduction in plastic compared to like-for-like rigid formats, Coveris' new hybrid cup packs combine FSC/PEFC board with a lightweight plastic alternative to provide a high-barrier, fully lined format. Widely recyclable with a significantly lower carbon footprint, the packs offer an innovative and sustainable solution for a variety of food-to-go products including sausage rolls, pastries and protein snacks.
Coveris will be showcasing the new Pack Positive range at Lunch, stand D21 from Thursday 20th to Friday 21st September 2018 at ExCeL London.