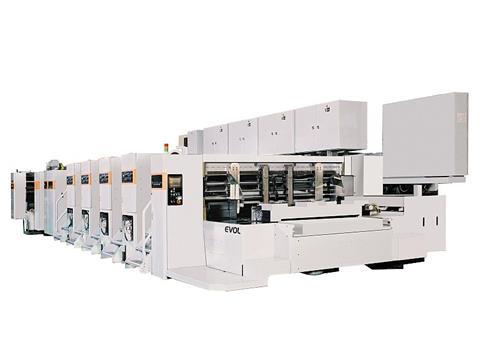 Corrugated cardboard boxes have been the backbone of e-commerce for some time. The engineered paper product has a highly designed construction, which enables it to carry a wide range of weights - from food products to books and electronics.
It is durable, low cost, environmentally friendly and highly customizable, making it ideal for shipping goods around the world. In Europe, more than 75% of goods are moved in corrugated cardboard boxes, according to industry association FEFCO. The global market for the engineered paper product is set to grow at a compound annual rate of nearly 4% over the next few years, rising from USD 269 billion in 2017 to USD 336 billion in 2023, driven by online shopping, urbanisation, internet penetration and environmental concern.
Mitsubishi Heavy Industries Group (MHI) has been making corrugated box-making machines since 1960. Ruud Vreugdenhil, Manager Operations at MHI Europe discusses what drives demand for this humble brown box.
Growth of e-commerce
E-commerce turnover in Europe amounted to €534 billion for 2017 which has been forecasted to grow to €602 billion in 2018, according to The European Ecommerce Report 2018. Corrugated cardboard has become the go-to packaging to deliver these goods as retailers promote free or affordable shipping, fast delivery and hassle-free return policies, to encourage online shoppers to click the "buy" button when browsing. Consultants IT Strategies, report that the material is mainly used for shipping boxes, thanks to its no-fuss, one colour, high protection and low-cost qualities. It is also used for primary boxes, particularly consumer electronic products, where graphics can be printed on paper and added onto the sides.
Demand for corrugated packaging in Europe is set to grow as ecommerce grows. In a survey of 200 European retailers conducted by digital experts Pierre Audoin Consultants (PAC), 69% predicted that online sales, and half predicted that mobile sales, would become more important to their omnichannel strategy by 2020. New industries, such as those driving the trend for fresh food deliveries, are also using corrugated cardboard as a recyclable option for storage.
However, for some packaging manufacturers, e-commerce in Europe only scratches the surface of potential sales. Online cross border trade has yet to be fully exploited across the continent – just 6% of businesses currently export online to other EU markets. Two other international ecommerce markets that have been catching the eye of manufacturers are India and Latin America.
India's e-commerce industry is racing to catch up to North America's. The country's e-commerce growth is projected to rise from USD 38.5 billion in 2017 to a whopping USD 200 billion by 2026. This rapid growth is being triggered by increasing internet and smartphone penetration as well as rapid urbanisation, which is increasing the purchasing power of consumers. By 2034, India is expected to surpass the U.S. as the second largest e-commerce market in the world, second only to China.
Meanwhile, Latin America's flourishing e-commerce market heralds boom times for the corrugated cardboard industry. In particular Brazil, the largest market in the region, made more than USD 16 billion in retail e-commerce sales in 2017. This number is only set to increase as digital payment options and wider credit card options become available in the region.
The scope for advertising
One of the most appealing benefits about boxes to manufacturers and marketers is that they are highly customizable. Thickness of the cardboard, sizes and shapes can all be adapted to suit the needs of any industry. The material can also receive different coatings, treatments and adhesives as well as printing complex artworks. This means the product can "wear" branding very effectively.
The ability to add coloured dyes for bespoke orders, combined with the agility of modern box-making machinery to change the size and shape of boxes at high speed and for variable quantities, is why the boxes can offer greater personalization for final consumers.
This enables highly targeted advertisements to be placed on the boxes. Just as Google provides relevant adverts for users based on their search history, so too can advertisers select and place adverts on boxes that are relevant to the item inside them, which consumers have just purchased. This is proving to be a very effective tool in advertisers' marketing mix and we believe demand will grow.
The Eco-Factor
The rise of the conscientious consumer means that people are actively making choices based on environmental impact. The retail manufacturing industry is one of the most polluting industries in the world. Consumers have cottoned onto this and are taking a stance against products that are unethical or have a negative impact on the environment. The impact of plastic packaging for example, is regularly hitting the news headlines. This year, the European Commission proposed banning single-use plastic products such as cotton buds and plastic straws, with the onus of cleaning up waste placed firmly on manufacturers' shoulders. Single-use plastic products that have readily available alternatives, will be banned and replaced with more sustainable materials.
Corrugated cardboard has long been an eco-friendly packaging solution. According to FEFCO, the circular economy is simply "business as usual" for the European corrugated packaging industry. Today's corrugated packaging is 97% recyclable and can be produced from recycled materials.
In fact, corrugated packaging is one of the most recycled paper products in Europe today. It has a well-established market for secondary raw materials and efficient recycling processes in place. This allows fibres to be reused for new packaging. FEFCO reports that recycled paper provides 88% of the raw material for new corrugated boxes.
Corrugated packaging has bright future for manufacturers. The continued rise of e-commerce in Europe as well as emerging markets such as India and Brazil, combined with corrugated packaging's eco-friendly credentials and appeal to advertisers, means that the material is as relevant as ever for getting goods from A to B.