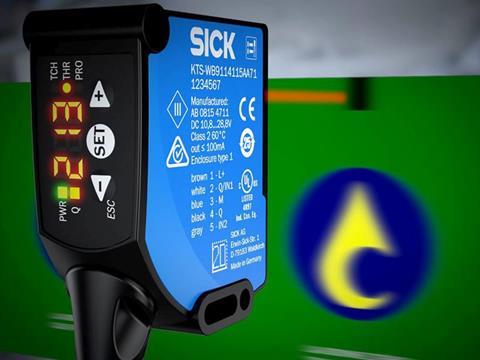 SICK has launched the KTS/KTX family of contrast sensors, delivering a powerful next-generation technology that breaks new ground in reliability, accuracy and versatility for print, labelling, converting and packaging applications.
"SICK's contrast sensors are the industry standard for detection or registration marks," says David Hannaby, SICK's UK product manager for presence detection. "However, that does not mean that we have stayed still. Instead, we have moved on to build even greater speed and accuracy into one of the industry's best used and loved devices."
"Customers now have the option of upgrading to the more compact KTS, for a space-saving solution, or to the KTX, which has the same housing size as the KT5 when replacement is the preferred option. One of the biggest advantages of the new technology is its more intuitive set-up to respond to frequent product changeovers. The sensors also cope easily with high-gloss or fluttering materials and there is even the option of incorporating a colour sensing capability without need for an additional device."
The SICK KTS and KTX family of monochrome and colour contrast sensors bring new levels of detection accuracy and switching frequency speed in both sheet- and reel-fed production, even in challenging conditions.
With compact, lightweight housings in rugged ABS, the sensors feature IO-Link data communication and an intuitive on-board display for easy set up and improved diagnostics. The sensors incorporate SICK's pioneering Twin-Eye Technology® for improved contrast detection with better depth of field and a wider sensing distance tolerance. The greater grey-scale sensitivity means even better sensing of monochrome or colour registration marks, even on high gloss packaging.
With a range of "core" and "prime" options in the product range, customers can choose different levels of functionality to suit their needs. With up to 70kHz switching frequency and down to 3µsec jitter rate (a level of performance never previously achieved) the KTS and KTX are easily capable of coping with up to 250 packs per minute and compensating for high-speed flutter on reel-to-reel material edges.Common applications such as the detection of print marks or the control of industrial labelling processes will benefit immediately from the improved process stability and optimum machine downtime of the new technology. The expanded range of sensor options now presents additional choices for application areas such as the detection of wafers, the management of reel changes and for quality control.
Twin Eye TechnologyConventional contrast sensors can struggle to perform reliably when faced with jittering webs, products with high-gloss surfaces, or where there is not much difference in contrast between a mark and its background. SICK has overcome these challenges by introducing a second receiving channel – a first for any contrast sensor - achieving better process stability and reducing the risk of machine downtime.SICK's Twin Eye Technology® analyses the optically-split remission signal from the material surface and compensates for any noise pulses it contains, so stable and controlled switching is consistently achieved. As a result the KTS/KTX sensors have a significantly larger depth of field, as well as a sensing distance tolerance of ± 5 mm, as-yet unique in contrast sensors of this type.
Set upThe sensors intuitive onboard display enables operators to input and query parameters and 'teach-in' sensor and process adjustments quickly and easily. The sensors can be rotated to ensure feedback information such as contrast quality is easily visible to the operator.
ColourThe KTS and KTX PRIME options enable fine contrast and colour differences to be detected using one device with a high degree of process reliability, while also blanking interfering colour gradients and imprints on the surface or noise from the detection background.David Hannaby concludes: "The KTS and KTX sensors really are breaking new ground in contrast sensor technology. While still enabling print and packaging industries to continue to use a reliable and dependable workhorse, they ensure all the functionality users need to move to even better levels of performance and ensure machines are Industry 4.0-ready."
More info: