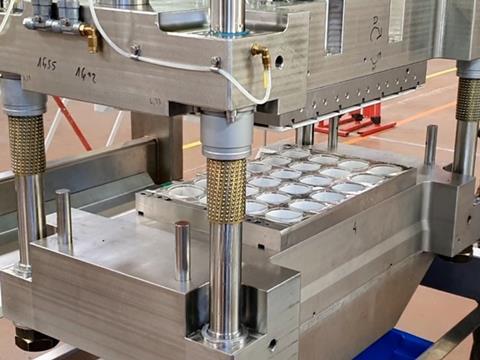 It's no secret that there is an abundance of misconceptions around sustainable packaging. These are used frequently outside the industry, but also often within it. So, what are the most damaging misconceptions, and how can the packaging value chain overcome them? Michelle Bryson, Global Sustainable Packaging Leader for BW Packaging, tells us more.
Hello! Thank you for checking out the first chapter of our sustainable packaging machinery series. My name is Michelle Bryson and I'm the Global Sustainable Packaging Leader for BW Packaging. The past few years have been an exciting time for me. I've had opportunities to support the development of packaging innovation and sustainability roadmaps for Wells Enterprises, PepsiCo, and now BW Packaging. But sustainability is more than a job to me – it's something that I care deeply about.
Throughout my 30+ years of working in packaging development, something I have always observed are the siloes of information we hold in the sustainability space. By increasing the level of collaboration between brand owners, material suppliers, and OEMs, we can better understand what works well for MRFs in terms of recyclability so we can increase the adoption of sustainable materials and reach our global climate goals.
I'm fortunate enough to have experienced the challenges of sustainable packaging from both the brand owner and OEM perspectives. For this reason, our team felt we could share insights across the value chain by developing content resources that will connect the dots between brand owner sustainability goals and the value that OEMs can provide.
In the coming weeks, I'll be sharing individual chapters of an e-Book we're working on titled "How to Involve Your OEM: A Beginner's Guide to Sustainable Packaging and Machinery." The final e-Book will give you the OEM's perspective on corporate sustainability initiatives, advice on how you can get the most value from OEM relationships, examples of proven sustainable packaging solutions and more! Today, I'm going to debunk five misconceptions that are commonly held throughout the packaging industry about sustainable packaging and OEM engagement.
I'm very excited that you've decided to join me on this journey! Let's dig in.
Why is Early OEM Collaboration Important?
Before we get into the misconceptions, I'd like to pause and share an important lesson that I learned early in my career as a brand owner. Anytime you plan to bring a new material into your operations, it's critical that you engage your OEM early. Whether you're planning to purchase new packaging machinery or retrofit existing equipment, early collaboration between your packaging material supplier and your OEM will increase the likelihood of early success for your sustainable packaging product launch.
By bringing all parties together early, we can learn from each other and work together to come up with the best solution possible for your specific sustainability initiatives. Having these conversations at the beginning of your innovation cycle (rather than pulling the OEM in towards the middle or end of your project) allows you to work through the material formulation challenges early and can establish your starting point for equipment settings, reducing the test and fail cycle on your production floor.
When you bring all parties to the innovation process together early on, the insights and collaboration are passed along quickly, allowing for real-time development and the elimination of unnecessary delays.
5 Misconceptions That are Hindering Sustainable Packaging Progress
Sustainability Is Just a Trend
When I first began working in the corporate sustainability space, the word "trend" was commonly used to describe the heightened demand we're all experiencing for more sustainable packaging solutions. But a trend is something that's here one day and gone the next. As you start to dig in and understand what's going on in the world of sustainability and what it really takes for a business to become sustainable, you'll quickly realize the truth: sustainability is not a trend.
The path to becoming a sustainable organization begins with a mindset shift. Set your sights on long-term change, not short-term gains. To have success and ensure that your business is profitable during this process, you must incorporate sustainable thinking and practices into your company culture. How do we bring sustainability into the fabric of the boardroom? As we launch new products, what materials will we use? What will the end of life look like for those materials? For many of us in the packaging industry, it's really about embracing a new way of doing business.
OEMs Are Just Here to Sell Equipment
One of the greatest opportunities a brand owner has is to involve your OEM early on in your sustainability conversations. As a former brand owner myself, I understand that it can be hard to tell what line you'll end up with or which supplier has the most cost-effective, product-effective material. I have learned, though, that the more I was able to de-risk my trials and engage my material and equipment suppliers up front, the more I was able to bring my leadership team along in the process. The early collaboration was helpful and proactive.
Your OEM can offer so much more than equipment. They can provide valuable perspectives that will help you avoid unforeseen issues down the road. For example, how confident are you that your new sustainable packaging will perform as intended during full scale production? If you've ever had to delay a product launch or explain to stakeholders why you launched a product with a material that didn't meet the quality or perform at the speeds you expected, you know why I ask.
Beyond selling equipment, there are several areas where OEMs can provide value, which will benefit you, not only during project management, but also in the long run.
Understanding Policy
By staying up-to-date on items like the Paris Climate Agreement, OEMs can develop new equipment (and retrofit existing equipment) to comply with the latest regulatory requirements that affect our customers. I suggest working with OEMs who are informed and aligned with your local policies and legislation.
Providing Testing & Support for New Materials
OEMs can provide value by testing new materials and sharing concrete data on their performance. OEMs can connect with material suppliers on the latest and greatest materials that are coming forward and test them on our equipment. This is beneficial to all parties involved. For material suppliers, it allows them the opportunity to adjust and perfect their products before going to market. Similarly, it allows brand owners to make data-informed decisions about the use of recyclable, compostable and other sustainable packaging solutions for their products.
Sharing Information
In the business world, there's a fine line between "giving away the farm" and bringing others along on a journey that we all need to win: the fight against climate change. Some worry that, by sharing too much, you'll give away your competitive advantage. However, to achieve our sustainability goals, we all need to find a comfortable confidence in exchanging information. For smaller brand owner customers who don't have the resources to conduct their own R&D, a good OEM should share what we know (i.e., latest sustainable materials, policy changes, innovative technology, etc.) so they too can have success with their sustainability goals, whatever those might be.
You Need New Equipment to Run Sustainable Packaging
Another misunderstanding that deserves some clarification is that you don't necessarily need to purchase a new packaging machine to support your sustainable product launch. Some brand owners don't think that they're able to accelerate their sustainability profile, simply based on the perceived barrier of a major capital investment. In PMMI's 2022 Challenges and Opportunities report, this was a common theme with one survey participant stating, "We have old equipment and need to find new baggers that can run more sustainable materials."
That may be true, but maybe not! For example, as we learned through our flexible packaging division, BW Flexible Systems, we were able to engineer an alternate forming collar to accommodate recyclable paper packaging for existing vertical form-fill-seal (VFFS) baggers. Because this was a retrofit, the capital investment was minimal. Despite the challenges of COVID and other unique circumstances, it only took us six months to fulfil the brand owner's request for such a solution.
Depending on your goals and the material you choose, a retrofit may or may not be an option for you. However, the point bears repeating, if you don't invite your OEM to take part in the conversation, you won't really know what's possible. If you, as a brand owner, have a particular launch date in mind for your product, engage with your OEM early so they can work with you to meet that date.
To Run Sustainable Films, You Must Concede to Performance Losses
If you don't engage your OEM early, it is possible that introducing a new material to your operations will lead to losses in your overall equipment effectiveness (OEE). Using shrink sleeves as an example, there are different heat curves associated with different films, so you'll likely see some variances in dwell time and performance. So, if you're not happy with the performance of one sustainable material, you might consider choosing a different sustainable material that does meet your requirements.
However, shrink sleeve films (and packaging material in general) are evolving constantly and what's being considered "sustainable" one day might not be "sustainable" the next (and vice versa), as material suppliers are getting in front of APR (The Association of Plastic Recyclers) boards to get their materials qualified. In the age of sustainability, change is the only constant. There will always be a combination of factors that influence your decision to change your packaging materials, which is why it's so important to engage with your OEM early and often so they can stay in lockstep with your evolving sustainability strategy.
For example, Accraply, BW Packaging's labeling and converting division, is partnering with label suppliers to test and validate sustainable solutions on the Accraply Revolve, their latest shrink sleeve converting machine. Though downgauging continues to be a valid strategy for reducing plastic waste, the industry's attention has started to shift towards fully recyclable label solutions such as floatable and crystallizable films. By working closely with a labeling OEM, brand owners and their material partners to test the latest materials and reduce tension where necessary to achieve consistent performance with fully recyclable films.
Packaging Machinery is Preventing Sustainable Initiatives
Another concerning perspective that I read in PMMI's 2022 Challenges and Opportunities report, is that 52% of respondents who were surveyed think packaging machinery is limiting the implementation of sustainable initiatives. It's unfortunate that some brand owners feel this way. As a former brand owner myself, I don't believe that equipment is the limiting factor here.
When it comes to packaging products, what you have is a system. To bring a product to market, you need a brand owner to provide the product, a material supplier to provide the package, and an OEM to bring it all together. Those three things can't be taken by themselves. We build these systems together, and if we're not developing the best possible solution, then we need to do a better job of communicating and working together.
This is why I believe that it's so important to bring your OEM in early; so that the day that your counting on your sustainable product to go out the door, that it's not the first time that your sustainable material is running on the machine. It should be the third, or fourth or fifth time. We have to lean on each other and learn from one another if we're going to achieve our sustainability commitments.
Key Takeaways
Sustainability is here to stay. The best way to embrace it and bring your sustainable products to market quickly is by coming together and ideating the best packaging solutions possible. This is the best message I can share with you – engage with your OEM early and often! That's really what's going to make a difference in the end. There's competition happening in this space to be sure, and that's healthy, but at the end of the day it's in everyone's best interest to have sustainability win out.