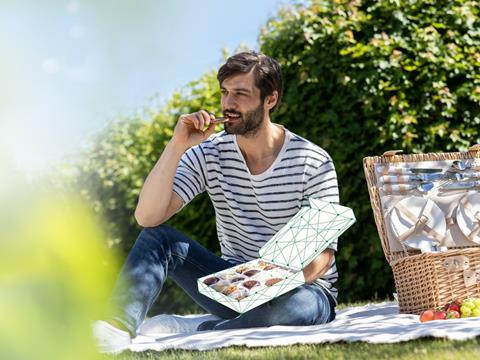 With only hours to go until the Sustainability Awards 2022, we speak to Henkel about its 'carbon-negative' hot melt packaging adhesive, which has been nominated for our award under the Climate category.
You're a finalist in the Sustainability Awards 2022. Congratulations! To start off, could you summarise your entry in fewer than 50 words?
TECHNOMELT® Supra ECO, the first carbon-negative packaging hot melt adhesive, contributes towards a negative carbon footprint without sacrificing the consumption of regular adhesives. Made of 81% bio-based material on a mass-balance basis with 30% direct bio-based content at minimum, it provides full traceability of one's CO2 footprint and enables the sustainable sourcing of raw materials.
Why do you think the judges were impressed with your entry? Tell us about what is innovative about your project and/or about its impact on packaging sustainability.
The carbon footprint of a standard polyolefin hot melt adhesive amounts to 328 tons of CO2 per year, at an average consumption of 100 tons of adhesive per year.
TECHNOMELT® Supra ECO helps to facilitate a negative carbon footprint (cradle-to-grave) for the same adhesive consumption. At least 372 tons of CO2 savings per year is equal to the carbon offset by more than 6,100 tree seedlings grown over ten years!
How has your innovation/initiative been received thus far?
The market views this innovation positively, especially since it is very easy for our customers to implement it – they just switch to this adhesive and save tons of CO2 per year without compromising on product performance. No other changes in the application process of the adhesive are needed.
You're shortlisted for the Climate category. What do you see as the key demands, challenges, and opportunities in relation to climate protection in packaging?
The whole packaging industry is going through a change, wherein sustainability and the achievement of relevant targets are becoming imperative for overall business success. We have seen in the recent past that many industry players make the importance of sustainability a non-negotiable factor within their business goals.
At Henkel, we welcome and anticipate this change within our research, development, and customer approach. We see ourselves as a process partner for our customers, helping them to achieve their goals for renewable sourcing and CO2 reduction – and not just as supplier.
When we, as an adhesive manufacturer, are involved early in the packaging design process, we are able to contribute significantly to the development of new products, thinking about circular economy targets like recycling from the very start.
Watch the Sustainability Awards ceremony online from 19:30 GMT on the Packaging Europe YouTube channel.