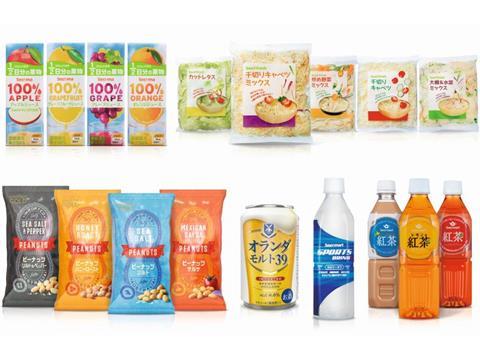 Adrian Whitefoord, founder and partner at Pemberton & Whitfoord, explores how British retail style was introduced to Japan using the medium of packaging.
Seicomart is the one of the largest retail convenience store chains in Japan. Its parent company, Secoma, has its head office on the Northern island of Hokkaido. The company ethos projects a strong sense of community and many of its stores are a lifeline for those living in rural areas, especially since the island has an aging demographic and the winters are very cold with heavy snowfall. It prides itself in selling high quality products at affordable low prices.
In 1994, the Chairman of Seicomart Japan, Mr Akao, visited the UK on his quest to find a design consultancy who would help him realise his vision, to propagate a unique approach to Japanese retail brand packaging. After a four day flurry of meetings with a number of London agencies, he made up his mind and chose Pemberton & Whitefoord as his primary strategic design partner. Seicomart (now renamed Secoma as a group company) remain one of P&W's largest and most valued clients.
Mr Akao's vision was to introduce British design styling (which he much admired) into his stores. Seicomart's biggest competitors were, Lawsons and 7-Eleven which are both heavily influenced by American styling and retail language principles. P&W was able to bring a UK / European tone to packaging solutions creating a point of differentiation to the Seicomart shopping experience compared to that of its rivals. A methodology that worked in our favour is that P&W never imposes a "house style" on its work (as some agencies do). We always work to the principle that the task our client has set us is unique, not something that can be prefabricated using recycled ideas. This gives us a flexible platform on which to build client empathy and has always been fundamental to our creative ethos.
The first Seicomart commission P&W worked on was for a wine range, then shortly after, a range of canned drinks. We were invited to Japan to make the presentation. Simon Pemberton (my Partner) and I visited Seicomart offices in the city of Sapporo. It was mid-winter and we arrived very late in the evening but were kindly taken out for a traditional Japanese supper, eventually reaching our hotel around midnight. The next three days were exhausting yet rewarding, presenting our work to senior management (involving Mr Akao), having meetings with key members of the Seicomart design team, visiting stores and manufacturing facilities and giving two lectures to around 200 staff on the subject of the UK's position and status on retail design principles. We found the people we met highly enthusiastic and attentive and we were treated with great respect. The Seicomart team understood that we were consultants and had valuable knowledge to share.
Ever since that first visit, our relationship has flourished and P&W has been entrusted with many important projects, including helping Seicomart launch the first Japanese retail loyalty card in 2000. Our contribution included the design of the card, promotional material and an introduction to the IT company that enabled them to set up their systems in-store and at data collection sites.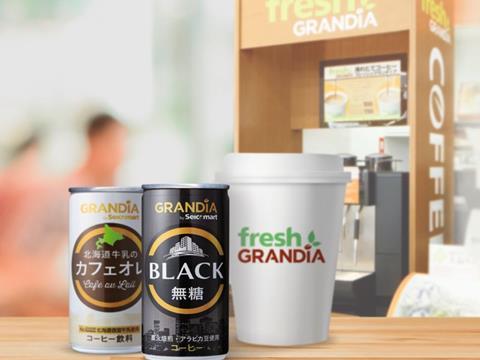 Canned coffee is a highly popular consumable in Japan, outselling Coca-Cola at stores and vending machines. In 1996 P&W helped Seicomart evolve the Grandia brand which challenged the dominance of national brands such as Boss and Georgia. The brand is redesigned around every two years and has become so popular it also sells as a fresh hot coffee facility in store.
We have now visited Seicomart many times and each trip has been intense and stimulating. On most of these trips I have been accompanied by Akiko, our Japanese Account Manager. Since joining P&W in 2010, Akiko has opened up further opportunities for interaction with Secoma projects. Also in that year, we were asked to engage in a full re-branding project involving the production of corporate and packaging brand manuals that further improved all touchpoints of brand communication.
Our next major task was to redesign and refresh the identity for Hot Chef, Seicomart's hot food takeaway and in-house dining brand, serving a variety of Western style fast-food snacks and meals. This initiative was hugely successful and Hot Chef was soon outselling local McDonalds and KFC stores.
In 2016 P&W was asked to give a lecture on principles relating to consumer health concerns regarding excess salt and sugar, allergens and concerns relating to processed foods. This lead to a major packaging review and introduction of a unique GDA system adopted on all Seicomart packaging. An initiative that was ground-breaking for a Japanese retailer. The same year, 'Secoma Co Ltd' became the group holding company with Seicomart retaining its position as the retail arm of the business. P&W made a significant contribution to the restructuring and introduction of the new logo.
Secoma goes from strength to strength. There are now around 1,100 Seicomart stores and ambitions include growing its non-retail business in the Tokyo region. However, its heartland is always likely to remain in Hokkaido, the agricultural hub of Japan and recent own-brand launches, that P&W has helped bring to fruition, reflect this principle with increased emphasis on provenance.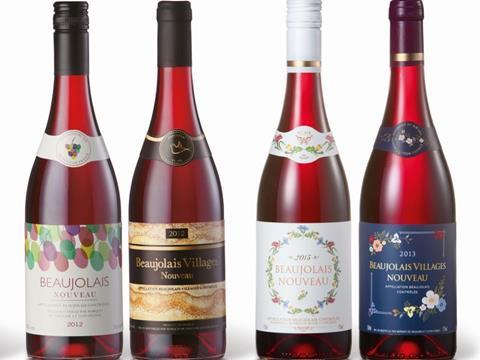 Next month Seicomart will launch its latest wines to herald Beaujolais Nouveau Day. This represents a massive occasion in Japan and for the 20th year P&W has designed the labels, which is without doubt, one of the projects that we look forward to most, enabling us to really push the creative boundaries and often enabling us to collaborate with artists and illustrators to create bespoke, ownable imagery.
It is interesting that when businesses and personal principles are aligned with a spirit of mutual respect and trust established, geographical and cultural challenges can be overcome, transcending obstacles. Our relationship with Secoma has thrived for over a quarter of a century and has encompassed many challenging but ultimately rewarding projects. It has been a truly eclectic mix including: packaging, corporate identity, point of sale, brand manuals, website design and strategic consultation.
We take great pride in our relationship with Secoma and feel confident that it will still be going strong for many years to come.
Pemberton & Whitefoord is an award-winning design consultancy formed in 1987 by Simon Pemberton and Adrian Whitefoord. Over 30+ years P&W has worked with many major UK and international retail clients as well as global brands. P&W's specialist field is packaging. However, the company's strategic and creative skills enable it to optimise communication for its clients across all brand touchpoints, resulting in solutions that are highly original and commercially successful.