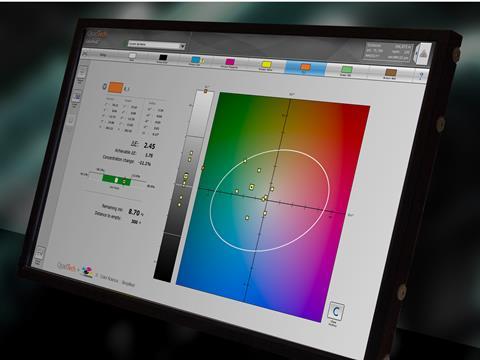 With QuadTech's InkWeigh™, press operators can view and weigh ink recipes received from the formulation software to easily make press-side corrections. Hugely significant savings in time and ink can be realised in this way, which can in turn be passed on to clients. In addition, InkWeigh enables printers to create in-tolerance colours by making adjustments to other inks in their inventory—rather than starting from scratch—dramatically reducing ink inventory and storage needs.
The ColorTrack software, InkWeigh, and DeltaCam inline colour measurement technology were first introduced at drupa 2016. Since then, new features have been developed to deliver what QuadTech refers to as "seven colour management breakthroughs"—because these capabilities are new to the packaging and converting industry:
1. Pre-Laminate/Post-Laminate Colour Support. Users can define both pre- and post-laminate colour targets within the job, measure colour inline, and use both targets to manage the difference on-press. This first and only automated workflow solution replaces cumbersome "trial and error" methods of achieving post-laminate colour that is within your customers' specifications.
2. ColorTrack Press-Side Recipe Correction Module. For the first time, it is possible to track ink quality and manage corrections when needed at the printing press—with one product. The new ColorTrack Correction Module streamlines the correction process, allowing for fast, accurate colour correction at the press to dramatically reduce waste caused by colour problems.
3. Ink Strength/Anilox Colour Correction. Press operators can manage ink colour at the press without correcting ink. They can avoid the cost and time involved with recipe corrections by instead managing print conditions. ColorTrack makes it possible to accurately predict the impact an ink concentration change or anilox change will have on colour. Advanced "Perifarbe" math formulas tell you if and how the best-match can be achieved.
4. Spot Colour Tone Value Calculation to ISO 20654. Designed specifically with Packaging print in mind, the Spot Colour Tone Value Calculation allows you to conform to the new ISO 20654 standard by showing how well your Spot Colour mid-tones match your targets.
5. Enhanced Colour Measurement through Strip Scanning. Gather a full set of colour targets for solids, tones, and substrate in one sweep with a hand-held spectro. Users can measure and average multiple colour strips.
6. Simplified Ink Quantity Tracking via Patented "Virtual Scales." Actively track ink consumption without the use of costly scales on each ink unit. Because it is software-based, this precise tracking solution can be retrofit to any flexo or gravure press, allowing you to standardize on a single color management solution across any range of press types and models.
7. Complete, Simplified Workflow. Increase press productivity 25% or more. Reduce color makeready and setup time up to 75%. Print houses can keep records of which ink batches are used, and dramatically reduce ink inventory and storage needs.
Over-used terms like "innovation" often conjure images of a new feature-laden smartphone, or some other type of gadget that doesn't exist today. Besides hardware and software innovations, the packaging and converting market is crying out for more effective processes that ensure colour precision—and connect workflows between presses, work shifts, and even different facilities. Those solutions will be technology-driven.
Here's why this is so critical to future success: More than 25% of brand owners indicate that they frequently encounter colour inconsistency or inaccuracy, according to Sara Tornetta in Color Sells. Patrice Aurenty, business leader for colour management at Sun Chemical, says that brand owners experience anywhere from 40% to 70% rework costs added to each new product launch due to colour issues.
There is an enormous opportunity for printers and converters who can adopt complete, simplified workflow solutions that increase press productivity, significantly reduce colour makeready and setup time, and reduce ink inventory and storage needs. Strong inter-instrument agreement and a complete, connected workflow also allow printers to prove their colour quality to their customers. This will have a huge impact on profitability by decreasing liability exposure and rebates.
Printers who fail to make this a priority will have difficulty surviving against competitors who do. Workflow innovations may not seem as splashy as the latest feature-laden smartphone, but there is some serious money to be made for printers who solve brand owners' very costly colour quality and consistency issues.