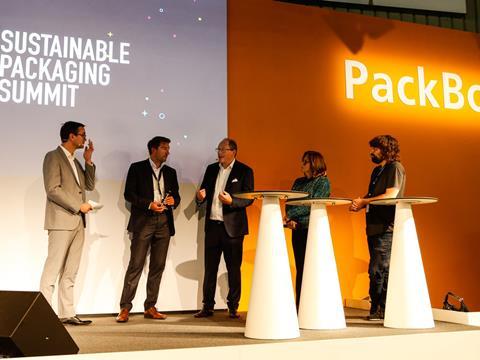 Sustainability is an opportunity for material manufacturers
In general, there appear to be two streams of thinking. On the one hand, brand owners and some material manufacturers are developing new solutions in order to de-risk their existing business by developing more environmentally friendly packaging. On the other hand, some are looking at the sustainability challenge as a business opportunity, developing sustainable solutions to build growth prospects for their business. This was exciting to see as ultimately sustainable solutions which are also financial success stories will move the needle forward and are likely to have most impact.
Equipment adaptation rather than full replacement will bring success
When I was reading the entries, I was struck by the fact that many equipment and material manufacturers really understood that solutions which required companies to adapt rather than fully replace plant machinery and equipment are more likely to succeed. Many of the entries focused on making it easier to implement with existing equipment, just requiring some modular changes, and this in itself creates a world without equipment waste!
The future is bright if we can harness expertise collaboratively
Finally, I want to reflect on the quality of the judging panel – it was a privilege to be able to collaborate with such a knowledgeable group of experts, each with a real interest in sustainability. It reinforced to me that sustainable packaging is a nuanced and varied approach and it's possible to see opportunities and possibilities where others do not.
It was especially pleasing to see my fellow judges highlighting that if material can be recycled, this does not necessarily mean it is recyclable. If the collection and separation systems do not exist for that material in market, it is unlikely to ever be processed. This is an issue that PepsiCo is very aware of as we work to our goal to design 100% of our packaging to be recyclable, compostable or biodegradable by 2025. We do not consider something to be recyclable in a given market unless there are adequate collection systems in place to give a high probability of the package actually being recycled.
I left the Awards filled with a renewed sense of confidence that there are many scientific and commercial explorations taking place in the area of sustainable packaging. I believe that a world where plastic need never become waste is not far off and through collaboration with the many experts and other stakeholders we can work together to find and deliver the most effective solutions at scale.