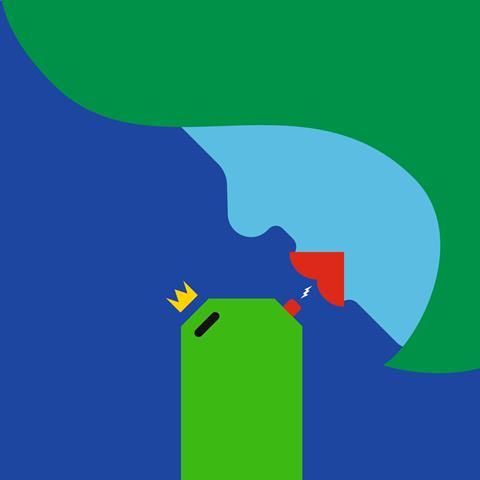 All packaging, explained Joachim Christiani, co-managing director of cyclos-HTP, has to be able to make it through a complex sorting process – identifiable via infrared scanning. Flexible packaging, which often features multilayer constructions of differing, incompatible materials, tends to be the one of the more problematic types of packaging when it comes to recycling. His firm weighed in early with suggestions on package design, appropriate materials to use, and the availability of sorting and recycling facilities in Europe.
Those involved also needed to resolve the issue of recycling printed plastic materials. This consideration led to what is perhaps the product's most groundbreaking innovation, the two-layer construction: the pouch itself and the detachable, printed panels that proclaim the brand details on the front and necessary consumer information on the back.
"We dress the main body up in an eye-catching outer garment to give it shelf appeal," noted Werner & Mertz CEO Reinhard Schneider. "And when the pouch is empty, we 'undress' it automatically by shredding and sorting the two components into separate recycling streams."
Roughly 85 per cent of the total packaging material (low-density polyethylene, or LDPE), including spout and cap, is unprinted. This means the transparent material can be recycled without degradation of quality. The remaining 15 per cent is still fully recyclable, since the material is free of glues or adhesives, and can enjoy new life in other applications.
Schneider noted there are additional sustainability benefits. The spouted pouch, complete with die-cut handle, uses approximately 70 per cent less material than rigid plastic bottles that hold the same volume.
Once the project's partners had determined a suitable design and the product's preferred materials, Der Grüne Punkt looked at the potential end uses and true market value of such recycled materials – again to ensure that a viable economic reality existed to support the planned product.
And even once a product is designed and developed, the effort still is not finished. It then needs to be vetted and C2C certified by an appropriate organisation such as EPEA Switzerland. (C2CC product certification is now overseen by an independent non-profit called the Cradle to Cradle Products Innovation Institute, based in Oakland, California.)
Christiani noted that what made this project exceptional was how all relevant parties were involved from the beginning – the brand owner, the packaging producer, the waste material collector and sorter, the recycler and the C2CC accredited assessor – and were consulted at every step of the product development process.
"Mondi and W&M were trustworthy and highly competent during this project," he said. "They are pioneers in developing sustainable flexible packaging."
Dr Markus Helftewes, managing director of Germany-based Der Grüne Punkt, added that the cooperation between the five partners involved in this project offer "a good example of the progress that can be made." Never has such commitment and progress been so important, as the world is publicly awash in plastic waste and seeking scalable solutions to address this pressing environmental issue.
One key approach is "to close the circle," he explained, "so that packaging can be turned back into high-performance packaging again. The C2C approach, Helftewes stressed, is a vital step toward saving resources and reducing unnecessary waste.
For his part, EPEA Switzerland's Albin Kälin pointed out that Mondi was extremely open-minded throughout the entire process and willing to adapt its production set-up to a new approach. This requires a significant level of commitment, and "is really unique," he said. "Werner & Mertz and Mondi are role models not just for the packaging industry, but for all industries who want shift from cradle-to-grave to cradle-to-cradle lifecycles for their products. Of course, every industry that can do this, should."
"One company cannot do this alone anymore," he concluded. "You need an innovative design and a network of experts to create products for a circular economy. We have to remake everything that we make today – and Mondi and Werner & Mertz were up for the challenge."