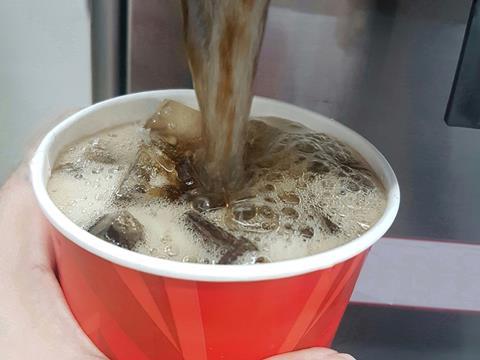 With the aim of exploring ways in which it can reduce packaging waste, Coca-Cola European Partners has completed an investment in Lavit, a manufacturer of dispensed delivery solutions.
Using globally patented technology, the Lavit system lets consumers make and pour their drink in seconds, by dispensing a range of cold beverage options "on-demand" at the tap of a button and offering customisation of beverages based on carbonation and flavour. Since commercialisation, Lavit has built a network of customers in the US and Canada.
According to CCEP, this partnership with Lavit will further its intent to explore and test new dispensed delivery solutions as a key strategic route towards eliminating packaging waste and reducing its carbon footprint, while providing consumers with the convenience, choice, and experience they expect from drinking Coca-Cola beverages.
The funding from and partnership with CCEP will seek to help Lavit test and develop new product capabilities and explore growth opportunities by gaining further insight into customer and consumer demand for dispensed delivery solutions. It follows CCEP Ventures' recent acquisition of a 25% stake in Innovative Tap Solutions (ITS), investing in the company's self-pour, self-pay drink dispensing technology.
The investment in Lavit was led by CCEP Ventures – the investment arm of Coca-Cola European Partners. It builds on previous investments in companies and start-ups that the company hopes will enable it to explore new ways of bringing innovation into its delivery model and consumer experience.
Graham Stokhuyzen, vice president of new business development at CCEP, said: "Lavit is an ambitious business with an advanced, commercialised dispensing technology and system. We look forward to working together with John Uhlein and the rest of the Lavit team to test and explore next-generation dispensing solutions.
"Decreasing our packaging use and waste is a core part of our strategy to reduce our carbon footprint. We will continue to develop and invest in "drinks on-demand" dispensed delivery innovations to offer consumers choice, personalisation and convenience in the most sustainable ways possible. This will also enable us to reduce our use of single use packaging."
John Uhlein, CEO of Lavit, added: "We are delighted to have CCEP Ventures as a partner. This partnership will enable us to scale more quickly, combining CCEP's industry experience and commercial expertise with Lavit's innovative technology."