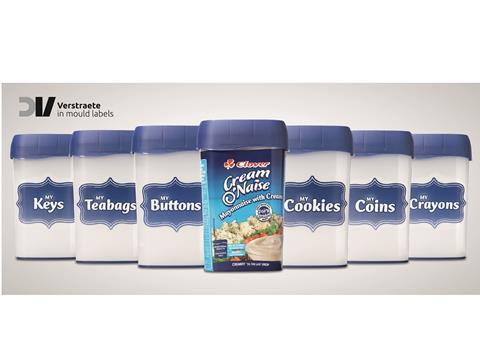 In August 2017, Clover surprised South African consumers with Cream O'Naise: a brand-new, creamy mayonnaise in a rectangular Barrier IML packaging.
Clover did not just put a new type of mayonnaise on the market with this product — the Barrier IML packaging also stands out on supermarket shelves thanks to its shape. As a promotion customers buying Cream O'Naise get one reusable tub as an extra, giving them a great incentive to start collecting the entire range of six different tubs. Injection moulders Polyoak gave the tub its special shape, while Verstraete IML – part of Multi-Color Corporation - took care of the associated Barrier IML labels.
Why did Clover choose IML packaging?
Edith Molepo, Senior Brand Manager at Clover: "There has been little or no innovation on the mayonnaise market for some time now. Here at Clover, we thought we should buck that trend by launching a unique product in unique packaging. Cream O'Naise is the only mayonnaise on the market to include cream, which gives it an extra smooth taste and consistency. With its rectangular shape and large opening, the reusable tub immediately draws customers' eyes to our product on the shelves. It soon became clear that we could only achieve our marketing requirements by using an IML packaging — or more specifically, oxygen barrier IML, because mayonnaise should have a shelf life of at least six months as standard.
How did you launch the new packaging?
Edith Molepo: "We wanted to entice customers to make repeat purchases, so we created a range of six multifunctional storage tubs. We launched Cream O'Naise as a two-pack, including a second, empty tub. This immediately focused customer attention on the multifunctional aspect of our packaging: it can be used as a handy storage tub."
What are the main advantages of the new Barrier IML packaging?
Ettienne Pretorius, Commercial Manager Dairypack Tubs at Polyoak: "Barrier IML packaging has similar oxygen barrier properties to a PET bottle. At normal storage temperatures, this means products have a shelf life of at least six months. The IML packaging provides a host of other advantages too: it is dishwasher resistant, which is important for reusable packaging. It is also safe for use in microwaves, and the tubs can be stacked easily, saving customers space. On top of that, this packaging fits perfectly in fridge doors, which is exactly where consumers prefer to keep their mayonnaise.
How does Barrier IML work?
Joe Kaddoum, Regional Business Development Manager Middle East & Africa at Verstraete IML: "An oxygen barrier IML label reduces the oxygen permeability of IML packaging by making use of an EVOH layer in the IML film. The OTR value (Oxygen Transmission Rate) of packaging with an oxygen barrier IML label can be up to 100 times lower than that of packaging with a standard IML label. Barrier IML not only extends the shelf life of a product; it also helps to maintain the best possible taste and aroma. Verstraete IML supplies two types of IML labels: oxygen barrier IML labels and light barrier IML labels. For Clover Cream O'Naise, we used oxygen barrier IML."
What are the stand-out product features of the IML label?
Edith Molepo: "Our storage range consists of six tubs, each with a different label: crayons, coins, buttons, cookies, keys, or teabags. We hope this will inspire our customers to find new used for our storage tubs. There's a message for customers on the label wrapped around the mayonnaise tub: "Once you have scooped the creamiest last drop, don't discard your Cream O'Naise Tub, simply remove the wrapper and fill the unique tub with your personal favourites!"
What were the greatest technical challenges?
Ettienne Pretorius: "One of the main technical challenges we faced was making sure the IML label covered the whole of the tub. However, together with Verstraete IML, we quickly found a solution to make sure the label was suitable for Barrier IML applications."
Would you recommend Verstraete IML as an IML partner?
Ettienne Pretorius: "Definetly! Thanks to their experience with Barrier IML solutions, we could rest assured we would get a high quality IML label. Verstraete IML is the market leader in IML labels and is always working on new innovations to grow the IML market, together with its clients."
More info: