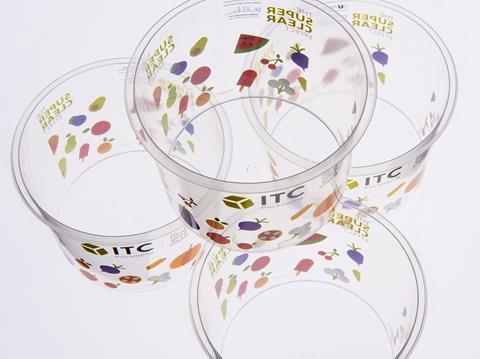 At this spring's Hispack 2018 trade fair in Spain, Milliken Chemical will be showcasing containers of NX™ UltraClear polypropylene made using its Millad® NX 8000 clarifier.
The global supplier of specialty chemicals and additives has worked closely with major Spanish plastics packaging producer ITC Packaging and Belgium-based label solutions supplier Verstraete IML to create a new UltraClear container that both Milliken and ITC will be promoting at the show.
Containers made with NX UltraClear PP are lightweight, microwaveable, can be hot-filled, and are recyclable, Milliken notes.
ITC Packaging, a long-time exhibitor at Hispack, said it will be using its presence at the show (Hall 2, stand E538) to highlight several recent innovative products and projects, including the UltraClear container.
"This solution comes in response to one of our customers' greatest demands — to achieve more transparent packaging that allows for a clear display of the product with a minimum of visual interference," said Silvia Oliver, ITC's quality responsible. "For this reason, we've teamed up with Verstraete IML and Milliken to produce an IML container with a high degree of transparency."
The aim to create this UltraClear container was driven by the desire to find a glass alternative for packaging a vegetable snack, a healthy product that requires a high degree of transparency that clearly transmits the freshness and naturalness of the product. The resulting product is part of Flexipack, ITC's standard range of packaging.
"The features offered by NX UltraClear PP are very striking in terms of transparency," added Alexis Moreno, account manager in ITC's sales department. "Any product that wants to use its appearance as a sales tool for differentiation will find an ideal companion in this solution."
The material's transparency was complemented by use of Verstraete IML's SuperClear IML label, which further enhances the product's marketing potential, Moreno noted.
SuperClear IML offers several benefits, said Benedict Adins, Verstraete IML's regional sales manager for Southern Europe, including: highly transparent, see-through areas that create a "no-label" look; great flexibility with no changeover costs or delay; a technique that allows a huge number of different IML looks to be created with the same keyline; and the possibility of a "floating label" look (with the label being printed only on the upper part of the packaging).
In a competitive retail marketplace, when consumers have the option to choose from among thousands of competitive products, attractive packaging can play a vital role. Allowing the consumer to clearly see the product he or she is buying only enhances the shelf appeal. That's why ITC Packaging chose to work with Milliken and Verstraete IML to deliver the clearly best end result.
More info: