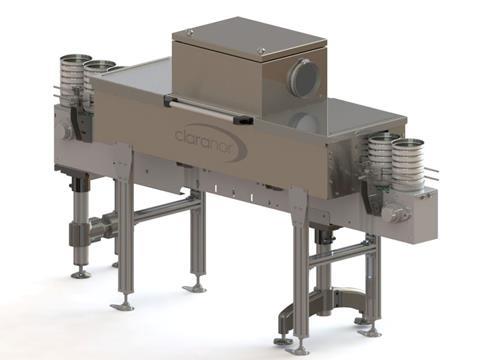 Claranor has designed the first pulsed light sterilization equipment dedicated to Infant formula milk powder cans. The unit will be presented in preview at the Anuga Foodtec in March.
Claranor already offers reliable and sustainable pack sterilization solutions for ultra-clean and ESL lines for dairy products: caps, cups and foils inline sterilization using the pulsed light technology. The Infant milk powder is a brand-new market for Claranor.
The market of infant formula milks is framed by a very demanding quality system and it is expected that this level of requirement will continue to strengthen in order to meet international specifications increasingly sharp. To comply with the expectations of the producers, Claranor has designed a dry cooling system and we performed several microbiological trials in order to demonstrate the efficiency on a new range of micro-organisms: Cronobacter sakazakii, Bacillus cereus, Candida albicans, the reference germs of this market.
To achieve the dry sterilization, the cooling of the pulsed light sterilization unit will be insured by an air instead of a closed water cooling system currently used. The Claranor solution remains with a strong advantage: the heat is not released in the environment around the conveyor but eliminated outside the production room. The microbiological tests are performed by our internal laboratory in Avignon and repeated by an external laboratory, the Fraunhofer Institute, to insure the neutrality of the results. They will be presented during the trade-fair. The Claranor prototype presented during the show has been designed for the most common format on the Infant milk powder market: can of 900g with a diameter of 127 mm on a single stranded conveyor, with a speed-line up to 300 strokes/mn. The can sterilizer will be running on the booth thanks to the electronic bay giving the chance to the visitors to see the equipment in operation. The unit meets the standard of food safety: hygienic design (stainless steel 304) and cleanability.
On top of the dry decontamination, the Claranor solution offers several advantages compared to the existing technologies:
• High level of efficiency
• No heating around the treatment zone
• Compact equipment, easy to integrate on new or existing line (<1,5m)
• Instant treatment (no pre-heating time)
• Lower running costs • Sustainability (no hazardous waste management)
Claranor offers a full range of packaging sterilization solutions dedicated to ESL for dairy and food markets In showcase also, the visitors will have the opportunity to see one cup sterilizer already sold to a major dairy in Vietnam to be installed on a Bosch - Osgood filling line and 2 cap sterilizers offering chemical free sterilization in full compliance with the shelf life requirement on dairy and food products, smoothies, café latte, ketchup or fruit puree.
Claranor's range of cap sterilizers is suitable for a wide range of size and shape of caps flat cap 38 mm, cap with foil, sport cap, twist-off, spout, lid with spoon for infant formula … Claranor Essential®, a very compact and cost-attractive cap sterilization solution, designed for low and medium speed lines (<15000 bph) Claranor standard cap, a solution dedicated to medium and high speed lines (up to 90 000 bph).
Today, over 300 Claranor packaging sterilization units are integrated on industrial plants in the beverage and dairy industry all over the world. Thus, Claranor solutions can advantageously replace chemical sterilization systems for benefits in terms of running costs, compacity, simplicity, for similar decontamination performances.
Claranor at Anuga Foodtec: 20-23 March: Hall 7.1 Booth C108 Claranor will be also present on Loehrke booth, its German distributor. Hall 5.2 AO71.
More info: